Iran not co-operating on nuclear programme, says IAEA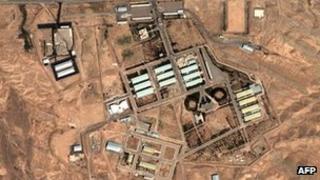 Iran failed to co-operate with UN nuclear officials during two sets of talks in Tehran over the past month, the UN's watchdog has said in a report.
The International Atomic Energy Agency said that Tehran had not cleared up questions about possible military aspects of its nuclear programme.
The agency also said Iran had stepped up uranium enrichment in recent months.
In response, Iran insisted it was co-operating with the agency but defended its right to a civil nuclear programme.
"Iran wants to keep talking with the IAEA to prove that its nuclear activities are peaceful," said Ali Asghar Soltanieh, Iran's envoy to the IAEA.
The West suspects Iran is seeking the technology to build a nuclear bomb and has placed sanctions on the country.
'Foreign expert'
The IAEA document, which was issued to the agency's members andleaked on the website of the Isis think tank, reported the findings of UN teams who visited Iran at the end of January and in mid-February.
"As Iran is not providing the necessary co-operation... the agency is unable to provide credible assurance about the absence of undeclared nuclear material and activities in Iran," the report said.
"The agency continues to have serious concerns regarding possible military dimensions to Iran's nuclear programme."
The agency has previously expressed fears that the Iranians were developing a military capability with the help of a "foreign expert" at the Parchin site, south of the capital Tehran.
But the Iranians refused UN requests to visit the site and dismissed the agency's concerns as "based on unfounded allegations".
In the report, IAEA chief Yukiya Amano urged Iran to "address the agency's serious concerns... by responding to the agency's questions related to Parchin and the foreign expert".
The report also says Iran has increased the number of centrifuges used to enrich uranium and has stepped up production of uranium enriched to the higher level of 20%.
It says Iran is preparing to expand enrichment work at the Natanz plant and at the underground site at Fordo, near the holy city of Qom.
The White House issued a statement calling on Iran to abide by earlier UN resolutions demanding a halt to uranium enrichment.
"Iran has continued to pursue its uranium enrichment programme in violation of multiple United Nations Security Council resolutions without demonstrating any credible or legitimate purpose for doing so," said the statement.
"If it refuses to shift course, its isolation from the international community will only continue to grow."