Traumatised Syrians flee to Jordan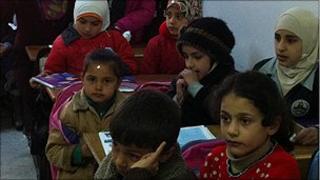 There is mounting pressure on the Syrian government to suspend its attacks and allow humanitarian aid to enter the besieged towns of Homs, Deraa and Idlib. As government forces continue their bombardment of opposition held towns, thousands of Syrians have fled the fighting into neighbouring countries, including Jordan, from where Wyre Davies reports.
At a small, rather crowded primary school in the Jordanian border town of Ramtha, an English lesson is in progress.
It is no wonder some of the children look a bit bemused. The girls and boys in the front three rows are all from Syria.
A few weeks ago, they and their families were cowering in their homes, under fire from their own government's guns. Now in the safety of neighbouring Jordan, some have been given places in local schools.
The latest shaky images from Syria show anti-government protests in several towns, despite the obvious dangers.
The assault on Homs, in particular, is relentless. Dozens of people have died in recent days.
At a house just across the plain from his troubled homeland, I met a former Syrian civil servant who fled the country with 10 members of his family when he was ordered to shoot protesters in Homs.
A loyal member of the Baath Party for more than 20 years, he was aghast that a regime he had served for so long was prepared to go to such lengths to quash the rebellion in Homs.
He asked me not to publish his name or exactly what his job was because, as he said, the Assad regime has a notorious network of informers and loyalists who keep close tabs on its opponents.
To his eternal regret, when the extended family left the besieged city - they had to leave behind two of their daughters, who have their own husbands and children to look after. They've not heard from them for more than a week.
Psychological effects
The shelling, the escape and the resettlement in Jordan have been deeply traumatic experiences, especially for the children.
"Psychologically it's affected them really badly," one mother told me. "They wouldn't leave my side because they were so scared and they were afraid of any noise - asking me, is that a sniper? Is that a gunman?"
The town of Deraa, where the Syrian uprising against President Bashar al-Assad began and where there has been heavy fighting ever since, is clearly visible from the Jordanian side.
Aid agencies and many concerned governments are now pressing for the opening of humanitarian corridors to Deraa and other border towns.
At a huge UNHCR warehouse in central Jordan, they are preparing to deliver supplies to the growing number of Syrian refugees now in the country. Tents, blankets, jerry cans and all manner of aid is stacked high to the ceiling.
With more than 70,000 Syrian refugees now thought to be in Jordan, it is a heavy burden on the UN refugee agency and the Jordanian government.
Suspicious of authority
Jordan, of course, has a long history of hosting and accommodating refugee populations, from Palestinians to Iraqis.
Andrew Harper, a Middle East veteran, is the UNHCR's new representative in Jordan and is co-ordinating closely with the authorities in Amman to contain the crisis.
"Many of these people are severely traumatised and, therefore, are very suspicious of authority.
"So it's often very difficult even finding them to offer and facilitate the help they need," said the UNHCR chief, clearly anxious to emphasise the role played by neighbouring governments in accommodating those who have fled the trauma of Syria.
Thus far the authorities have been able to house and help most of the Syrian refugees inside existing Jordanian communities, avoiding some of the pitfalls and problems of traditional tented camps.
But preparations for a more permanent refugee camp are already being made as the fighting continues and more Syrians flee their homeland.