Obituary: Syrian citizen journalist Rami al-Sayed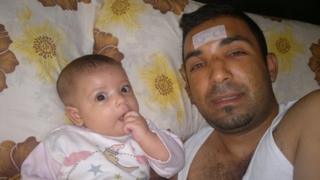 Rami al-Sayed was a key provider of online videos showing the Syrian government's bombardment of the central city of Homs until his death on Tuesday.
Activists said Rami al-Sayed was fatally wounded when shells struck the opposition stronghold of Baba Amr for the 18th consecutive day. He had been trying to help a family flee in a car, witnesses said.
A video posted on his YouTube channel, Syria Pioneer, by Mr Sayed's brother showed his body in a makeshift clinic in Baba Amr, with shrapnel wounds to his chest, abdomen and legs.
A doctor who appears beside the body in the video, Mohammed al-Mohammed, describes Mr Sayed as "one of the most important cameramen and one of our most important journalists in Baba Amr".
"He kept bleeding here in the field hospital for more than three hours. We tried to evacuate him outside the area but to no avail," he says.
"Rami was killed because he was broadcasting real footage from Baba Amr. Rami was killed because he was recording the truth," he adds. "But we will have 1,000 Ramis... Our revolution will prevail."
Mr Sayed uploaded more than 800 videos documenting the situation in the city, and used the video streaming website, Bambuser, to broadcast live footage as security forces attempted to wrest control of districts from the rebel Free Syrian Army by firing rockets, mortars and shells.
Bambuser, access to which was blocked by the Syrian authorities last week, paid tribute to Mr Sayed, saying in a statement that he was "one of the bravest and forefront fighters in getting the world's attention on what's going on in Homs".
"Those live pictures that Rami and his friends have brought to the world are the only live pictures that have come out of Baba Amr over the past two weeks. So I think it's very important," Bambuser's chairman, Hans Eriksson, told the BBC.
"We've also seen pretty much all major media in the world, like CNN, BBC, Sky etc, broadcasting his live pictures on TV. As late as [Tuesday] morning his live pictures were on the BBC as well as many other news channels."
According to Bambuser, Mr Sayed was 26 and had an 18-month-old daughter named Maryam. His cousin, Basil al-Sayed, another citizen journalist from Homs, was reportedly shot dead by security forces in December.
Bambuser also published what it said was the last message Mr Sayed had sent to his friends and which addressed the outside world.
"Baba Amr is facing a genocide right now. I will never forgive you for your silence. You all have just given us your words but we need actions. However our hearts will always be with those who risk their life for our freedom. I know what we need!" he was quoted as writing.
"We need campaigns everywhere, inside Syria and outside Syria, and now we need all people in front of all embassies all over the world. In a few hours there will be no place called Baba Amr and I expect this will be my last message and no-one will forgive you who talked but didn't act."