Syria unrest: West stirring civil war, says China paper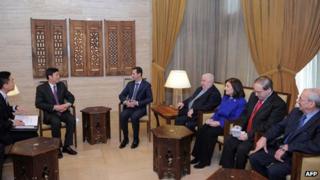 The official newspaper of the Chinese Communist Party has accused the West of provoking a civil war in Syria.
In a front page commentary, the People's Daily said that Western support of Syria's opposition would lead to "large-scale civil war".
In that case armed intervention would become unavoidable, it added.
A Syrian opposition activist in Homs has called for women and children to flee from the heavily bombarded area of Baba Amr.
Hadi Abdallah told the AFP news agency that residents of the suburb were living in cold and "unsustainable" conditions, and that they were "awaiting death".
Activists say government forces are strengthening their siege of Homs, where hundreds of opposition fighters are believed to be holding out.
Boycott call
President Bashar al-Assad is pressing ahead with his plan to hold a referendum this Sunday on a new constitution for Syria.
China's Vice Foreign Minister Zhai Jun held talks with Mr Assad in Damascus at the weekend and backed his plans for the referendum.
Mr Zhai called for all sides to end the violence immediately.
Opposition groups have called for a boycott of the referendum, saying it cannot be held while violence continues.
On Sunday, the UK Foreign Secretary William Hague told the BBC that the international community's ability to prevent a civil war in Syria had been constrained by Russia and China vetoing the recent UN Security Council draft resolution.
Mr Hague again called for the Syrian president to step down.
The People's Daily, the mouthpiece of the party, said in its commentary: "If Western countries continue to fully support Syria's opposition, then in the end a large-scale civil war will erupt and there will be no way to thus avoid the possibility of foreign armed intervention."
The 11-month uprising against Mr Assad has claimed thousands of lives.
Human rights groups believe more than 7,000 people have been killed - while the government says at least 2,000 members of the security forces have died fighting militants.