Iraq gun and bomb attacks hit Baghdad and Baquba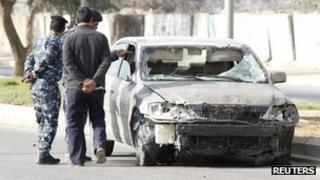 At least 18 people have been killed in a suicide attack in the Iraqi capital Baghdad.
A bomber blew himself up in a car near the entrance of the Iraqi Police Academy in the east of the city. Twenty-six people were hurt.
Also on Sunday, deadly attacks were reported in and around the city of Baquba, to the north of Baghdad.
Four police informants were killed by suspected al-Qaeda gunmen in the centre of Baquba, local police told AFP.
Gunmen also attacked a checkpoint in Abu Khamis, north of Baquba, killing one policeman and two members of the Sahwa (Awakening) militia, according to AFP.
'Cars set ablaze'
The attack at the Iraqi Police Academy is the deadliest attack in the capital for weeks.
Most of the dead are believed to have been new recruits to the police force.
"I can see body parts scattered on the ground and boots and berets covered with blood," a policeman working at the academy told Reuters.
"Many cars were set ablaze," he added.
The academy has been targeted in two previous attacks, in 2005 and 2009. Al-Qaeda said it had carried out both attacks.