Iran 'may boost nuclear programme', diplomat warns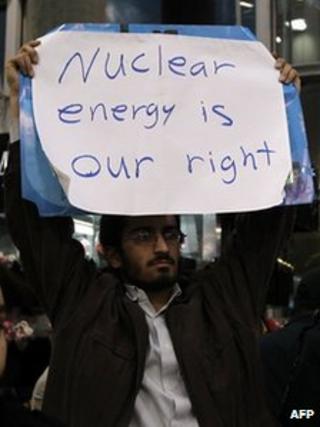 Iran may be poised to expand its nuclear programme at an underground site near the city of Qom, a Vienna-based diplomat has told the BBC.
It appears to be ready to install thousands of new-generation centrifuges at the fortified underground plant, the diplomat said.
They could speed up the production of enriched uranium - required for both power generation and nuclear weapons.
The United Nations nuclear watchdog, the IAEA, has not commented.
Its inspectors are due to visit Tehran this week for another round of talks on Iran's nuclear activities, after they were denied access to certain nuclear sites and scientists on a visit last month.
Iran says its nuclear work is for purely peaceful purposes, but Western countries express fears that Iran is secretly trying to develop a nuclear bomb.
Tensions rise
This is another warning that Iran may be stepping up its controversial nuclear work, despite increasing international sanctions, says the BBC's Bethany Bell in Vienna.
According to other accounts by diplomats requesting anonymity, the Qom facility now contains the electrical circuitry, piping and supporting equipment required for the new centrifuges - though they add that the centrifuges have not yet been fitted and there is no certainty about if and when they will be.
Three days ago, Iran itself said it had advanced its nuclear know-how, including developing centrifuges able to enrich uranium faster.
The developments come against the backdrop of rising tensions over the issue, following an IAEA report in November which claimed that Iran had "carried out activities relevant to the development of a nuclear device", including:
Speaking in Tokyo, Israeli Defence Minister Ehud Barak called for sanctions on Iran to be tightened still further, saying only "crippling" measures would force it to give up its nuclear programme. But he reportedly added that Israeli military action against Iran was not on the table for the time being
Several rounds of increasingly punitive UN and Western sanctions - the latest targeting Iran's oil and financial sectors - have failed to force Iran to give up its nuclear ambitions.
Instead, there is increasingly feverish media speculation that Israel is planning a military strike on Iran's nuclear facilities.
On Saturday, Israel's military chief of staff, Lt Gen Benny Gantz told a state TV station the country would ultimately make any decision to strike on its own, reported AFP news agency, saying it was "the central guarantor of its own security".
US national security adviser Tom Donilon has arrived in Israel for talks with officials on a range of issues including Iran.