Palestinians rally in support of hunger strike prisoner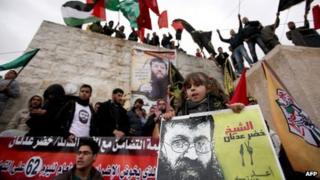 Thousands have rallied in Gaza and the West Bank in support of a Palestinian on the 62nd day of a hunger strike in protest at his detention by Israel.
All the main factions were represented at the Gaza demonstration, where crowds chanted: "We are all Khader Adnan."
Mr Adnan has not had food since mid-December, when Israeli security forces raided his home in the West Bank.
He is widely believed to be a leader of Islamic Jihad, which Israel has designated a terrorist organisation.
The Israeli military has said that Mr Adnan - a 33-year-old baker - was arrested "for activities that threaten regional security". It has not given further details.
Earlier this month, an Israeli military court ordered that Mr Adnan be placed for four months in "administrative detention". Under Israeli law, such prisoners can be held indefinitely without trial or charge.
'Immediate danger of death'
Mr Adnan has been refusing food since 18 December - one day after he was detained - in protest at what he says was a violent arrest as well as humiliating interrogation sessions.
On Friday, the Israeli group Physicians for Human Rights, which has been monitoring his condition, said he was "in immediate danger of death", adding that he had suffered "significant muscular atrophy".
"There is a risk to his health even if he starts eating now because his system has got used to not having any food at all," a spokesman added.
At least 5,000 people meanwhile took to the streets of Gaza City, waving a mixture of black Islamic Jihad flags, the green flags of the Islamist movement Hamas, and the yellow flags of the secular Fatah movement.
"The Palestinian people, with all its components and its factions, will never abandon the hero prisoners, especially those who lead this hunger strike battle," said Hamas's prime minister in Gaza, Ismail Haniya.
Senior Islamic Jihad leader Nafiz Azzam said Mr Adnan was "not fighting for a personal cause, but for the defence of thousands of prisoners".
Hundreds of Palestinians also demonstrated in the northern West Bank city of Jenin, while Palestinian officials said many other prisoners in Israeli jails had started hunger strikes in support of Mr Adnan.