Anthony Shadid, New York Times reporter, dies in Syria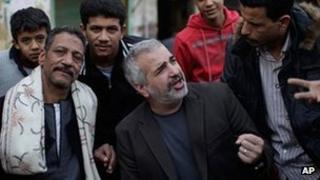 New York Times correspondent Anthony Shadid, who twice won the Pulitzer Prize, has died on assignment in Syria.
The 43-year-old is believed to have suffered an asthma attack on Thursday triggered by an allergic reaction.
An American of Lebanese descent, Mr Shadid covered the US invasion of Iraq and its aftermath for the Washington Post newspaper.
He won his Pulitzers in 2004 and 2010, and was nominated for his coverage of the Arab uprisings in 2011.
Mr Shadid, a fluent Arabic speaker, was one of three NYT journalists who were held for more than a week by the Gaddafi government in Libya during the uprising there in March last year.
NYT executive editor, Jill Abramson, said: "Anthony died as he lived - determined to bear witness to the transformation sweeping the Middle East."
Mr Shadid had been gathering material inside Syria before falling ill.
Photographer and colleague Tyler Hicks said they were walking behind some horses towards the Syria-Turkey border when Mr Shadid began to show symptoms.
'Extraordinary ability'
Mr Shadid's father, Buddy Shadid, said his son had suffered from asthma all his life.
"He was walking to the border because it was too dangerous to ride in the car,'' Buddy Shadid told the Associated Press. "He's more allergic to [horses] than anything else - and he had an asthma attack.''
The symptoms developed into what proved to be a fatal attack. Mr Hicks then carried his body across the border into neighbouring Turkey.
Mr Shadid's reporting from the Middle East was widely respected.
In 2004, the Pulitzer Board praised his "extraordinary ability to capture, at personal peril, the voices and emotions of Iraqis as their country was invaded, their leader toppled and their way of life upended.''
Mr Shadid had also written three books, one of which is due to be published in March.
Tributes pour in online
As a journalist for the Boston Globe, Washington Post and New York Times, Mr Shadid was a colleague to many US journalists. Tributes to the late reporter came through twitter.
Michael Luo, an investigative reporter with the New York Times tweeted: "Could easily make the argument that Anthony Shadid was the greatest foreign correspondent of his generation. Horrible loss."
US Ambassador to the UN, Susan Rice, says she is "heartbroken by the loss" and calls Shadid "One of the world's bravest and best journalists."
Wall Street Journal reporter Tamer El-Ghobashy tweets: "Anthony was the most prominent Arab American of our generation and he did it without making it a brand or a mission. Great by merit alone."
Anne-Marie Slaughter, formerly of the US State Department and a Princeton university professor, says: "The people of the Middle East have lost a champion."
Don Van Natta, Jr, of ESPN also had his say: "By Anthony Shadid" was a beacon of humanity and truth."
Veteran foreign correspondent Christine Amanpour was one of many to cite Shadid's work: "Anthony Shadid's death robs us of a unique voice. Read his books if you want to know about life/humanity of Mid East."
And Nicholas Kristof, a globe-trotting columnist for the New York Times calls him "the gold standard of journalism because of language skills, hard work, compassion & toughness."