BBC condemns attack on its Yemen reporter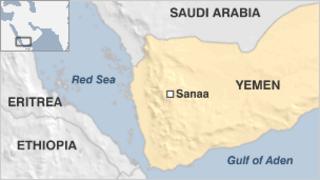 The BBC has condemned an attack on its Yemen reporter, urging the authorities in Sanaa to ensure the safety of all journalists working in the country.
It says reporter Abdullah Ghorab was set upon by men with batons and knives, "who appeared to be supporters of the outgoing president Ali Abdullah Saleh".
Mr Ghorab escaped, but his two brothers were badly beaten up.
The BBC says journalists should be able "to report freely from Yemen without fear of violence or intimidation".
In a statement, the British broadcaster said Mr Ghorab was attacked by the armed gang in Sanaa on Wednesday.
"We are deeply concerned that this was a deliberate attack and we condemn it in the strongest terms," the BBC World Service's Liliane Landor said.
The statement added that it was not the first security incident targeting Mr Ghorab in Yemen.
"He has been detained and assaulted on two previous occasions and was verbally attacked by Yemen deputy information minister last September."
"Attacks of this nature only serve to harm the country in the eyes of the world," Ms Landor said.
The authorities in Sanaa have so far made no public response to the BBC's statement.
Yemen has been gripped by months of anti-government unrest and fighting between armed factions.
In a separate development, officials said a leader of al-Qaeda in the Arabian Peninsula had been killed in a "family dispute".
Tarik al-Dahab was killed by his half-brother, Hizam, in a village in southern Yemen, they added.
Tarik was described as the brother-in-law of the US-born radical cleric, Anwar al-Awlaki, who was on the US most-wanted list and was killed in a drone attack last year.
Tarik's supporters are reported to have then attacked his killers, who took refuge in Hizam's house.
Sixteen militants are said to have been killed in the gunfight, including Hizam.