World press unimpressed by Iran's nuclear achievements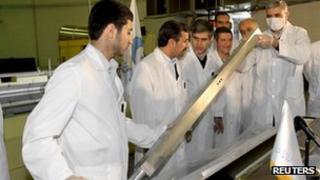 Iran's announcement that it has achieved major progress in its nuclear programme failed to impress commentators around the world. On Wednesday, Tehran said that it had for the first time loaded domestically made nuclear fuel rods into a research reactor and had put into operation a new generation of nuclear centrifuges.
Analysts in Israel and China said the move was an attempt by President Mahmoud Ahmadinejad to boost his profile ahead of parliamentary elections due in March. Many papers were in no doubt that Iran was steadily on its way to developing a nuclear weapon, with newspapers in the Middle East, Turkey and Russia predicting this could lead to a pre-emptive strike against the country.
ISRAEL
Ronen Bergman in Yediot Aharonot
The show with Iranian President Mahmoud Ahmadinejad at the reactor was intended to demonstrate toughness in the run-up to both the imposition of sanctions by the international community and his election campaign in the country. However, this toughness, and the recent terrorist attacks against Israeli targets in the world, hint at one thing: the regime in Tehran is under heavy pressure, and perhaps is on the verge of losing control.
Nadav Eyal in Maariv
The complex TV production at the small nuclear reactor in Tehran was intended to beat the tom-tom drums of national pride next to the dying bonfire of the Iranian society… The announcements about the sophisticated centrifuges and homemade fuel rods surprised no-one in the West... it looked like recycling old news for internal needs.
Boaz Bismuth in Yisrael Hayom
If Iran is not lying, it will be capable of continuing to enrich uranium to the 90 percent required for making a nuclear bomb. Tehran, of course, continued to report that everything is for civilian purposes… But make no mistake: Behind the Iranian festival this week lurks a bomb.
MIDDLE EAST
Manar al-Rashwani in Jordan's Al-Ghad
The political debate on how to deal with the Iranian nuclear programme has moved to a new level, which revolves around the timing of an Israeli air strike on Iran... Tehran has two options... to present radical concessions to the USA and the West on its nuclear programme, which means aborting the whole project. This will be considered as a political suicide for the ruling group in Tehran... There is nothing left for Iran but to accelerate its nuclear project in order to engage in what the Israelis call an "immunity zone".
Yusuf al- Kuwaylit in Saudi Al-Riyadh
Iran has political and military aspirations in the Arab region and Central Asia... but it wants to accomplish them through distributing challenges and threats that are beyond its capabilities.
CHINA
Hua Liming, former Chinese ambassador to Iran, China Radio International
After Europe announced sanctions against Iran, a number of signs have arisen to show that Iran's domestic society is less stable. Therefore, President Ahmadinejad wants to tell the people of the country that Iran still has the capacity to resist in the face of powerful enemies.
Prof Shen Dingli in Global Times
Iran's domestically-made 20 per cent-enriched rods mean that if it wants to build a bomb, it is halfway there.
Article in Renmin Ribao
In the context of the West's escalating confrontation with Iran this year, Iran's high-profile announcement of nuclear achievements is mostly to show its unyielding stance... Iran, however, cannot "step on the brakes" on its road to possessing nuclear weapons. But the outcome of constantly running ahead will be a head-on collision with the US' huge war chariot.
Sun Degang in Xinwen Chenbao
Iran still has a very long way to go in raising the purity of enriched uranium from 20 to 90 per cent... Threats to attack Iran have gone on for three or four years and the determination of the West to take action immediately against Iran still cannot be seen... The West is likely to wait until the 2013 Iranian presidential election to see how strong the Iranian opposition is before making a decision.
RUSSIA
Andrey Ryabov in Kommersant
By activating its nuclear programmes, Tehran is obviously in a hurry as it realises that, given all the talk of a future military operation against Iran, it is running out of time. The Iranian side is trying to take the lead by managing to manufacture a nuclear bomb before a forceful action against the country is performed.
TURKEY
Ahmet Selim in Zaman
The possibility of Israel (that is to say the US and Europe) hitting Iran is considered to be weak. For me, this is not a weak prospect at all. I think that the US is monitoring Iran with close intelligence and that it will act when Iran comes to the edge of making a nuclear bomb.
BBC Monitoring selects and translates news from radio, television, press, news agencies and the internet from 150 countries in more than 70 languages. It is based in Caversham, UK, and has several bureaux abroad.