China's PM: 'No protection' for Syrian government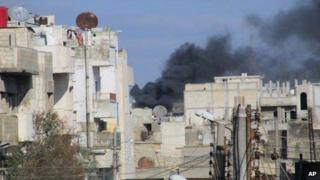 Chinese Premier Wen Jiabao says Beijing will "absolutely not protect any party" in the conflict in Syria.
Speaking after talks with EU chiefs in Beijing, he said China would "continue to play a constructive role".
China and Russia vetoed a UN resolution on Syria 10 days ago, sparking claims from the UN rights chief that action against protesters has intensified.
Meanwhile activists say the city of Homs, under heavy attack for more than a week, is suffering fresh bombardment.
The Local Co-ordination Committees group said that the shelling was "brutal" and was the worst for several days.
On Monday, the United Nations' human rights chief, Navi Pillay, said the veto by China and Russia had encouraged President Bashar al-Assad's government to carry out indiscriminate shelling of civilians in Homs.
In a special session of the UN General Assembly, Ms Pillay accused the Syrian government of launching an all-out assault to crush opposition dissent.
She said that at least 300 people had been killed in the assault on Homs, and that the number of dead and injured continued to rise every day.
'Middle East stability'
Mr Wen's comments came as he addressed a joint news conference in Beijing's Great Hall of the People with European Commission President Jose Manuel Barroso and European Council President Herman Van Rompuy.
He insisted that China remained committed to peace in Syria.
"What is most urgent and pressing now is to prevent war and chaos so that the Syrian people will be freed from greater sufferings," he said.
"This accords with the fundamental interests of the Syrian people and also will contribute to the peace and stability of the entire Middle East region.
"To achieve this objective, China supports all efforts consistent with the UN charter purposes and principles, and we are ready to strengthen communication with all parties in Syria and the international community and continue to play a constructive role.
"China will absolutely not protect any party, including the government of Syria."
Mr Van Rompuy said all UN Security Council members should act on Syria.
As the European Parliament in Strasbourg prepares to debate the violence in Syria, a senior Liberal MEP, Guy Verhofstadt, has told the BBC Europe should consider giving weapons to the Free Syrian Army.
But other MEPs, including the British conservative MEP Charles Tannock, say the situation in Syria is too complex and advises caution.
'Further sanctions'
Meanwhile German Chancellor Angela Merkel has praised the Arab League's stance on the Syria crisis.
Speaking as she welcomed the organisation's Secretary General, Nabil al-Araby, to Berlin, she said the league's "firm" position "clearly points out the human rights violations committed by the Assad government".
"The European Union supports this position and we will underline it through further sanctions," she said.
Mr Araby said that the killings in Syria should stop "right now", and said that the "winds of change" that had swept through the Arab countries in the past year had been about people demanding what Europeans had had for a long time: liberty, democracy, social justice, dignity and good governance.
Human rights groups say more than 7,000 have died throughout Syria since last March. The government says at least 2,000 members of the security forces have been killed combating "armed gangs and terrorists".
However, Syria restricts access to foreign media and it is not possible to verify casualty figures.