Who is behind Israel's embassy attacks?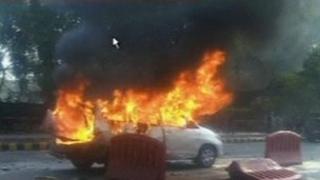 Israel wasted little time in pointing the finger at those it considered responsible for the blast in India and the attempted bombing in Georgia.
Iran and its "proxy" Hezbollah were responsible, officials said.
The war of words may be escalating, but so is a semi-clandestine struggle which is ranging well beyond the Middle East.
Israel has not produced any evidence at this stage for its claim, but Hezbollah will be seen as one possible culprit with the possibility (denied by Tehran) that Iran may have also been involved as well.
Both certainly have motives for wanting to strike at Israel now.
Softer targets?
Four years ago, the much feared head of Hezbollah's external operations wing, Imad Mugniyah, was killed by a blast in Damascus.
Mugniyah was one of the most hunted men in the world, who was believed to have been behind a string of attacks dating back to the 1980s against a number of countries - including France, the US and Israel.
His death was blamed by Hezbollah's supporters on Israel's Mossad.
There has long been an expectation that Hezbollah would seek its revenge, and last year there were security warnings for the anniversary of the killing.
The fact that anniversary fell yesterday will fuel the belief that events in Georgia and India may be a direct response.
Hezbollah has been blamed for major attacks abroad before.
In 1994, a massive car bomb struck an Israel-linked community centre in Argentina, killing 85 people.
No-one was convicted, but Hezbollah - and Imad Mugniyah - were viewed as the culprits.
In January of this year, reports emerged that an attack in Thailand against Israel's embassy in the country had been foiled.
In Azerbaijan, reports emerged of plans to kill Jewish teachers.
The choice of locations like Thailand and the Caucasus is likely to be a reflection of Hezbollah (if it is them) seeking out places where they can operate more easily under less pressure from local security services.
That may well be the motivation for the attack in Delhi and attempted attack in Georgia. Trying to carry out the killing of an Israeli diplomat in London or Paris would most likely be a harder task.
'Sending message'
Hezbollah is a group which has close ties to Iran, but it would be wrong to see it purely as its proxy.
Its overseas operations wing has extensive networks around the world, including in Europe and Latin America, and works with Iran's Revolutionary Guards Quds force, which also operates abroad.
One concern in Western countries has always been that a major air strike on Iran's nuclear programme could lead to a campaign of retaliation around the world carried out by Hezbollah operatives.
Iran also has its own motives for seeking to strike Israel.
Iranian scientists have been killed or targeted on the streets of Tehran in recent years.
Last month, Mostafa Ahmadi-Roshan was killed when motorcyclists placed a sticky bomb on his Peugeot car. His driver also died.
That was similar to a technique used in the past in attacks which have been widely attributed to the work of Israel's Mossad.
The fact that the Delhi attack was also carried out using motorcyclists carrying sticky bombs could be a way of sending a message that attacks in Tehran will be repaid in kind.
Iran has rejected the claim it was involved in the attacks as "sheer lies", suggesting that this is part of an Israeli propaganda campaign.
It remains possible that some other organisation - including an al-Qaeda related group - could be behind the attack.
Attacks, assassinations and attempted assassinations - whether of Imad Mugniyah in Damascus or against the Israeli diplomats on Monday - are often designed with the purpose of masking who was really carrying them out and who gave the ultimate orders.
But so long as the different sides in this conflict remain confident that they know who was responsible, the chances are that they will continue to try and strike back - meaning the attacks may continue and become bloodier.