Egypt's Bedouins free South Korean hostages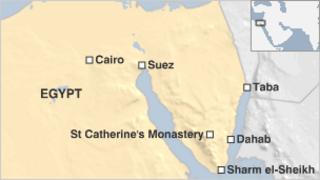 Three South Korean tourists and their Egyptian guide have been released a day after they were kidnapped by Bedouin tribesmen in the Sinai peninsula, local officials say.
They said the three Korean women and the guide are unharmed.
The four had been travelling on a bus with other tourists to St Catherine's Monastery on Mount Sinai when armed men forced it to stop and seized them.
The attackers were reportedly seeking the release of detained relatives.
Last week, two American women and their guide were also kidnapped by Bedouins.
They were released unharmed within hours after mediation efforts between the local authorities and tribal leaders.
And on Thursday, 18 Egyptian security guards were held briefly in protest at the killing of a tribesman, according to the Associated Press.
Bedouin tribesmen in Sinai have been involved in a series of confrontations with security forces in recent months.
A gas pipeline from Egypt to Israel has also repeatedly been sabotaged, though Sinai's tourist resorts have remained largely secure.