Iran TV defiant on revolution anniversary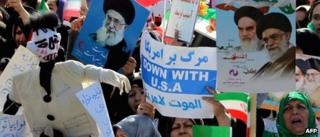 Thirty-three years and counting - that was the underlying message to the nation and the wider world in Iranian TV's coverage of 10 days of ceremonies marking the anniversary of the 1979 Islamic revolution, culminating in nationwide rallies on 11 February.
The "Ten Days of Dawn" - as they are referred to in Iran - offer the state-controlled media the opportunity to portray a people united behind the leadership, with appeals to a sense of nostalgia, national pride and Islamic unity.
This year, with Iran facing increasing sanctions and the possibility of a military strike because of its nuclear programme, the media's appeal to nationalism was more pronounced than ever.
'Increasingly nationalistic'
The main television channel's coverage of the rallies, referred to as the "national celebration of Iranians", was indicative of the increasingly nationalistic tone in the Iranian media.
The station's live coverage of the rallies was interspersed with patriotic and rousing music, including an old national anthem entitled "Vatanam" or My Homeland.
The anthem's lyrics appeal to all Iranians with references to a people with "one name and one symbol with different colours and languages". It conveys a sense of national unity and nostalgia and has become a YouTube hit among Iranians.
Voxpops reinforced the message. "Today Iran is a super power," a man in the crowd told the TV's correspondent.
But Islam, of course, features heavily alongside nationalism in Iranian TV's imagery. The revolution symbolised the "shining star of Islam", said the channel's news presenter.
"Today the Imam [Khomeini] and the martyrs are proud."
The wife of one of Iran's assassinated nuclear scientists, Daryoush Rezaei - killed in July last year outside his home in Tehran - was featured in one TV interview.
"Our message is that these sanctions, these assassinations... will have no impact at all," she said.
Arab Spring link
According to the Iranian media's narrative, it was the Islamic revolution in Iran that eventually spurred the Arabs to overthrow the "dictators" of Tunisia, Egypt, Libya and Yemen. The Arab Spring is referred to as the "Islamic Awakening".
So prominence was given to the presence of Gaza's Hamas Prime Minister, Ismail Haniya, at the rally in Tehran.
He was shown addressing the crowd, saying: "We stress and we say no to American threats, no to Zionist threats to the Islamic Republic and no to foreign interventions in our Arab and Islamic region. We say yes to Islamic unity, Islamic unity, Islamic unity."
The anti-government demonstrations in Syria, Iran's only regional ally, do not feature in Iran's narrative.