Armed Assad supporters and opponents clash in Lebanon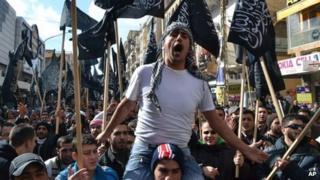 There has been heavy gunfire in the Lebanese city of Tripoli, as supporters and opponents of Syria's President Bashar al-Assad took to the streets.
Rocket-propelled grenades were also fired and a bystander was injured by a stray round, officials said.
Prime Minister Najib Mikati told the army to "take necessary measures to halt" the events in the northern port.
The violence erupted after hundreds of people attended an anti-Assad demonstration after Friday prayers.
Residents said the RPGs were fired from the Sunni Muslim district of Bab al-Tabbana towards the Alawite district of Jabal Muhsin.
People from the two areas clash frequently, but tensions have mounted since the beginning of the uprising in Syria in March.
Mr Assad is an Alawite and members of the minority Shia sect occupy key positions in the Syrian government and security forces.
Syria's majority Sunni community has been at the forefront of the revolt against the president and borne the brunt of the state's crackdown, which human rights groups say has left more than 7,000 people dead.