Palestinian on hunger strike 'in critical condition'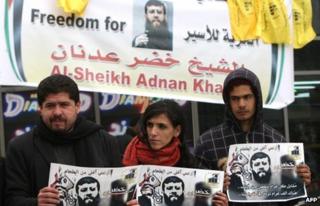 A Palestinian prisoner who has been on hunger strike for 54 days while being detained without trial by Israel is in a critical condition, medical charity Physicians for Human Rights says.
Khader Adnan has not had food since mid-December, when Israeli security forces raided his West Bank home.
It is thought to be the longest hunger strike by a Palestinian prisoner.
Mr Adnan is widely believed to be a leader of the Palestinian militant group, Islamic Jihad.
Israel has designated IJ a terrorist organisation.
Doctors from the PHR organisation say they fear Mr Adnan is close to death.
"His situation is critical," said PHR spokeswoman Hadas Ziv.
"He is shackled to his bed by both legs and one arm. His family who visited him this week believe he has lost a third of his body weight."
A doctor from PHR was able to visit Mr Adnan in hospital in northern Israel this week, but cannot comment on the specifics of his case due to patient confidentiality.
Administrative detention
On Tuesday, Mr Adnan's wife and his two daughters were allowed to visit him in hospital.
PHR is calling for the Israeli prison services to allow Mr Adnan to be examined by an independent doctor without Israeli security officers in the room.
Mr Adnan has drunk water only occasionally.
In a statement, the Israeli Prison Service acknowledged Mr Adnan's life was at risk and said he had agreed to take potassium pills.
The prison service said Mr Adnan had said he did not want to die.
The 33-year-old is protesting against what he says was a violent arrest as well as humiliating interrogation sessions.
Mr Adnan is being held under what Israeli law calls "administrative detention", under which prisoners can be detained indefinitely without trial or charge if they are deemed to be a security threat.
The Israeli human rights group, B'Tselem, says more than 300 Palestinian prisoners are held under such terms.
At a Israeli military court hearing last week, it was ruled that Mr Adnan would be held for four months. That period could be extended.
Amnesty International has called for Mr Adnan to be charged and quickly put on trial, or released.
"For years Israel has been using administrative detention to lock up Palestinian activists without charge or trial," said Ann Harrison, the group's deputy director for the Middle East.
"Military commanders can renew the detention orders repeatedly, so in effect detainees can be held indefinitely. The process violates their right to a fair trial, which is guaranteed by international law Israel is obliged to uphold," she added.
In recent weeks, small demonstrations have been held in the West Bank and Gaza calling for Mr Adnan's release.