Israeli union federation launches nationwide strike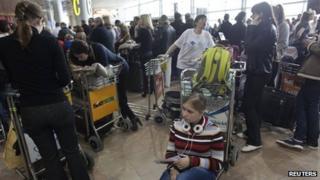 Israel's main trade union federation has launched a national strike intended to shut down government offices, banks, airports, ports and rail services.
Histadrut said it was in protest at the government's use of contract workers, who often earn less and receive fewer benefits than permanent employees.
Finance Minister Yuval Steinitz said the strike was unnecessary and would harm the country's economy.
The Israeli Chambers of Commerce put the cost at about $100m (£63m) a day.
The high court rejected a petition against the strike by the chambers of commerce on Tuesday, saying it did not see a reason to intervene.
Overnight talks between the finance ministry and Histadrut also failed.
Wednesday's strike closed Tel Aviv's Ben-Gurion International Airport between 06:00 and 12:00 (04:00-10:00 GMT). It also affected hospitals and office workers, banks, the national electricity company, the Tel Aviv Stock Exchange, as well as ports and the rail service.
Histadrut wants the government to hire some 250,000 contract workers, such as cleaners and security guards, whose working conditions are considered worse than those of workers directly on the government's payrolls.
"The only weapon workers have is the weapon of a strike," said the union's chairman, Ofer Eini, after the failure of talks with Mr Steinitz.
The finance ministry said the government could not take on so many new workers, but has offered to improve contract workers' conditions by increasing their salaries by 20% and awarding them more annual leave.
On Tuesday, Histadrut reached an agreement with the Co-ordinating Bureau of Economic Organisations - which represents private companies - that would see contract workers who have worked full time for at least one year hired directly rather than through an employment agency.