Egypt football deaths: Conspiracy theories rife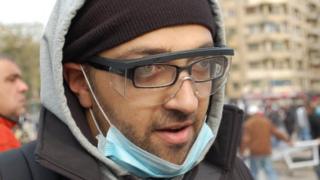 Today, Tahrir has a new set of banners. Just two days after the deaths in Port Said, posters have already been made, displaying photographs of those who died at the football match.
One banner reads: "Al-Ahly club, 1907: Club of the century." Underneath are various pictures of young boys smiling. One is in an al-Ahly club t-shirt - possibly the one he died in.
A few thousand have gathered here for what has been billed by protesters as "Friday's day of pride".
The "ultras", a well-organised network of football fans who have a history of clashes with the police, have gathered at Mohamed Mahmoud street.
This leads to the Ministry of Interior where battles with the police have been taking place.
Every few minutes, an ambulance speeds from the road into the square, delivering another protester to the field hospital which has been set up at the edge of Tahrir Square.
A doctor tells me they have treated a few hundred today for injuries from tear gas - mostly not serious.
Conspiracy theories
Away from Mohamed Mahmoud, everyone is talking about what happened at Thursday night's match.
"All this violence - including the bank robberies in the last week - this has all been planned," says an al-Ahly fan called Ahmed Omarah. His view is shared by many.
"Scaf [the Supreme Council of the Armed Forces, Egypt's interim military rulers] want to take revenge as the ultras had a main role in the revolution over the past year.
"They have been in power for 70 years and they don't want to lose their privileges. So they create chaos, as whenever there is violence, it gives them an excuse not to step down," he says.
But what is his proof, I ask.
"When the fans went into the stadium, they weren't searched for weapons, even though officials knew that the match was likely to be violent," says Ahmed.
"Some people were killed with weapons - how could these have been allowed in? And the police stood by and did nothing!"
Search for answers
Basim al-Sayed, a protester, is also sure that the violence was planned.
"We have seen many football games in the past, and this is not what Egyptians are usually like," he says.
But how does he know that the deaths on Thursday night weren't caused by police incompetence?
"I think it will take time to find the proof," he says. "But it's obvious to everyone."
Dr Sherif Samra, an engineer in his 60s, says he doesn't usually believe conspiracy theories in Egypt.
"There are many conspiracy theories here," he says, "and I usually don't go for them, but what happened on Thursday was different.
"It was a huge disaster. Over 70 innocent people were killed. It wasn't usual football violence, but it was pre-planned."
Who by, I ask?
"I don't know and I have no proof," he says.
"In Egypt for the past twelve months, we have been saying there is a hidden third party. Who are they? We don't know.
"But there must be someone behind these things. It could be the military intelligence, or the military council, or a corporation or the Muslim Brotherhood. We don't have the answers."
Throughout Egypt, people like Dr Sherif are looking for answers, and until they find them, the resentment against the ruling military council looks set to grow.