Egypt football riot: Fans vent anger at army and police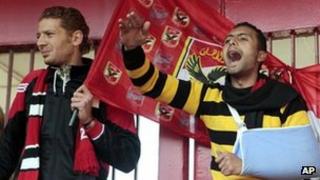 Angry al-Ahly supporters in their thousands marched from various parts of Cairo, from near the team's ground in Zamalek and from Muhandeseen, and descended on Tahrir Square - in the heart of the capital.
Already fans had set up barriers to close off the square. From there, they set off for the interior ministry and entirely surrounded the building.
Different chants rang out among the crowds.
"If you do not give us our rights, we will take them with our own hands!" was one. They also chanted: "There is only one God, and the martyred are beloved of God!"
The crowds were made up mainly of young men, though women joined the marches. They carried Egyptian and al-Ahly flags.
'Conspiracy'
While I was interviewing one of the demonstrators, one angry young man shouted at me demanding that I stop recording.
Others expressed their anger against the ruling Supreme Council of the Armed Forces (Scaf), police, the governors of Port Said and the interior minister.
Iman, mother of two young daughters, told me that this incident was planned - and not by the people of Port Said where more than 70 people died in violence at Wednesday's football match.
"The Scaf is responsible for these disasters. I hope Egyptians overcome this conspiracy against us and our country," Iman said.
Hady Ismail, an al-Ahly Club supporter, said: "If the Scaf cannot secure a football match, how can it secure and achieve stability for the whole country!"
Other demonstrators demanded that trials of those responsible be held quickly.
Haidy Hany, a 13-year-old member of the al-Ahly swimming team, said: "We need trials and the rights of those martyrs. The Scaf and police are responsible and they should be tried."
Other protesters think that the now dissolved National Democratic Party, which governed under ousted President Hosni Mubarak, was responsible for the violence.
This all adds to the demands that the Scaf hand over power to a civilian government immediately.
The sackings of local officials in Port Said was not enough, some demonstrators said.
In parliament, an immediate investigation by a fact-finding commission was announced. It is due to report back in a week.
But the next few days, especially Friday, may well decide the course of confrontation between demonstrators, on the one side, and both the Scaf and police, on the other.
If quick and concrete steps are not taken to appease the young demonstrators, the fury and suspicion might escalate sharply.