Palestinian protesters target UN chief Ban Ki-moon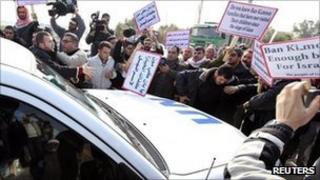 Dozens of Palestinians staged a hostile protest as the convoy of visiting UN chief Ban Ki-moon crossed into Gaza from Israel.
Many were relatives of Palestinian prisoners in Israeli jails, and said they were angry at Mr Ban's refusal to meet them to discuss the prisoners' situation.
Some threw shoes and some held signs reading "enough bias for Israel".
Mr Ban is visiting the region to try to kick-start stalled peace negotiations.
A month of "exploratory talks" ended last week without any breakthroughs.
Negotiations on a two-state solution stalled in late 2010 after a dispute over Jewish settlement construction.
Human chain
Forty or 50 protesters gathered on the Gaza side of the Erez crossing as Mr Ban's armoured vehicle passed into Gaza, reports said.
Many were relatives of Palestinian prisoners in Israeli jails, who are currently said to number about 4,000.
The protesters formed a human chain in an attempt to hold up his convoy, reported AP news agency, but Hamas security forces moved them away.
His convoy continued on to Khan Younis, where he is reportedly scheduled to visit a school and a Japanese-funded housing project.
On Wednesday Mr Ban urged Israeli leaders to offer "goodwill gestures" to Palestinians to provide fresh momentum for peace negotiations which stalled over the issue of Jewish settlement construction.
Talks falter
With Palestinian President Mahmoud Abbas by his side, Mr Ban affirmed that "all Israeli settlements are contrary to international law and prejudice'' the outcome of a final peace deal, reported AP.
The Quartet of Middle East peace mediators - the US, UN, EU and Russia - said last year that they expected both sides to use the exploratory talks to submit detailed proposals on borders and security arrangements, in the hope that the dialogue would encourage direct peace talks.
But the Palestinians say while they have made proposals, the Israelis have not.
Israeli Prime Minister Benjamin Netanyahu has rejected demands for a settlement freeze as a precondition for talks.