Israel PM Benjamin Netanyahu wins Likud leadership vote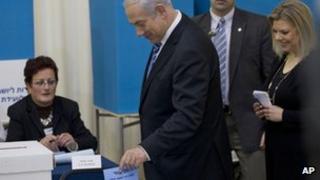 The Israeli Prime Minister, Benjamin Netanyahu, has won an election for the leadership of his right-wing Likud party, according to partial results.
With 85% of ballots counted, Mr Netanyahu had received 75% of the vote, Israeli media reported.
"I thank you all for the confidence and renewed support you have given me," Mr Netanyahu said in a speech in Tel Aviv.
His only rival, ultra-nationalist Moshe Feiglin, won 24% of the vote, roughly what he polled in the 2007 primary.
Mr Feiglin nevertheless expressed satisfaction with the results.
"According to the results we are getting, we did something that was almost impossible…more than one quarter of registered Likud members voted for me and for a Jewish state," Mr Feiglin told the Ynet website.
Some analysts say Mr Netanyahu's strong showing could lead him to hold an early general election, which is currently due to be held in late 2013.
However, Likud MP Danny Danon told the Reuters news agency that the prime minister "prefers to lead and not be dragged there". Mr Netanyahu also said that "there is time yet" before any general election.
Final results are expected later on Wednesday. About half of Likud's 125,000 members voted.
The opposition Kadima party is due to hold its own primary on 27 March.