Iran says nuclear talks with IAEA 'constructive'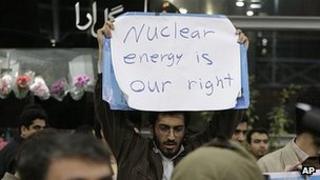 Iran says it has ended three days of "positive and constructive" talks with UN nuclear inspectors.
The semi-official Fars news agency said the two sides had agreed to continue talks, but the report did not specify when the next meeting would happen.
The International Atomic Energy Agency (IAEA) has so far not commented.
The IAEA inspectors'' visit to Iran comes at a time of heightened tension between the Tehran government and the West over the country's nuclear programme.
The US and its allies suspect Iran's uranium enrichment work has military aims but Tehran insists it is for electricity generation.
"Talks between Iran and the visiting team of inspectors... were held in a positive and constructive atmosphere," Fars said.
"The two sides agreed to continue the talks."
An unnamed official quoted by Iran's state-run Arabic language TV channel al-Alam said "technical and legal issues were discussed", adding that the inspectors had not visited any nuclear sites.
A protest against the visit by some hard-line Iranian students took place outside the country's Atomic Energy Organisation, ISNA news agency reported.
Before the trip, the head of the IAEA team, Deputy Director General Herman Nackaerts, said they hoped to "resolve all the outstanding issues with Iran" over its nuclear programme.
"In particular we hope that Iran will engage with us on our concerns regarding the possible military dimensions of Iran's nuclear programme," he said.
The inspectors will now take Iran's answers back to the IAEA headquarters in Vienna.
The BBC's James Reynolds says their evaluation may be included in the next written report on Iran's nuclear programme expected in the next month.
The IAEA said last November it had information suggesting Iran had carried out tests "relevant to the development of a nuclear explosive device".
Since then the US and the European Union have imposed a series of sanctions against Iran, including measures targeting the country's lucrative oil industry.