Yemen's President Saleh arrives in US for treatment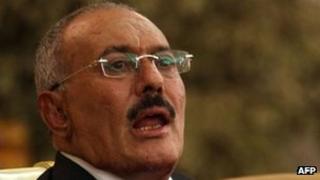 Yemen's President, Ali Abdullah Saleh, has arrived in the United States to receive medical treatment for injuries sustained in an assassination attempt.
His departure from Yemen last week followed the passage of a law giving him immunity from prosecution, and a televised "farewell speech".
Hundreds of people have been killed during nearly a year of unrest against Mr Saleh's 33-year rule.
He has repeatedly stepped back from a promise to relinquish power.
Mr Saleh travelled to the US via Oman and Britain after receiving permission from Washington to make the visit.
"President Saleh arrived this evening in the USA for a short-term private medical visit," Yemeni embassy spokesman Mohammed Albasha said in a statement quoted by the AFP news agency.
The US State Department also confirmed his arrival.
The 69 year-old leader was badly injured in an attack on his presidential palace last June.
He spent several months receiving medical treatment in Saudi Arabia and many Yemenis believed his departure would be permanent.
However he confounded his critics by returning to the country and resuming his leadership, a move that intensified the unrest against him from protesters and armed factions opposed to his rule.
Sensitive visit
Mr Saleh handed power to his deputy in November under a deal brokered by Gulf Arab countries to end the violence.
He is staying on as a figurehead until elections are held next month to choose his successor.
The United States has urged him to stay out of Yemen until the elections are complete, but Mr Saleh has indicated that he hopes to return to his country before then.
The BBC's Barbara Plett in New York says Mr Saleh's visit is very sensitive for the US.
The Yemeni leader has been a staunch ally of Washington in the fight against terrorism, our correspondent says, but US officials do not want to be seen as harbouring an autocrat.
They have stressed that his visit is a private one and for a limited period.
Protesters in Yemen are angry that Mr Saleh has been given "full and irrevocable" immunity from prosecution.
They want him to be brought to justice for offences they say he committed, including the killings of demonstrators.
However, the law gives only limited immunity to government and military officials who served alongside Mr Saleh. They could still be prosecuted for actions deemed to be terrorism, or for corruption.