Israel-Palestinian exploratory talks 'over'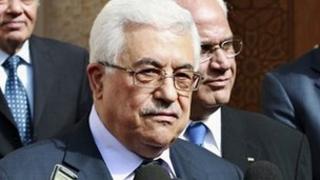 The Palestinian Authority president has said the exploratory talks with Israel on resuming full peace negotiations have concluded, without any progress.
After a meeting with Jordan's King Abdullah in Amman, Mahmoud Abbas told reporters that he would discuss what to do next with the Arab League next week.
Both Israel and the Palestinians have been under international pressure to resume talks on a two-state solution.
They stalled in late 2010 in a dispute over Jewish settlement construction.
About 500,000 Jews live in more than 100 settlements built since Israel's 1967 occupation of the West Bank and East Jerusalem. The settlements are considered illegal under international law, though Israel disputes this.
Border proposals
Palestinian and Israeli negotiators met five times in recent weeks in the Jordanian capital for what were termed "exploratory talks".
The BBC's Wyre Davies in Jerusalem says that following Mr Abbas's statement on Wednesday, it appears those discussions have drawn a blank.
The Quartet of Middle East peace mediators - the US, UN, EU and Russia - said last autumn that they expected both sides to submit detailed proposals on borders and security arrangements, in the hope that the dialogue would encourage the resumption of direct peace talks.
The Palestinians say they have submitted their proposals, but that Israel has not.
"If we demarcate the borders, we can return to negotiations, but Israel does not want to do that,'' President Abbas told reporters on Wednesday.
The Israelis say that they have submitted a document outlining the areas that need to be discussed, but do not describe it as a proposal.
Our correspondent says there was never any real expectation from seasoned observers that any progress would be made in Amman, despite the added pressure of a deadline set by the Quartet.
The truth is that there is little trust between President Abbas and Israeli Prime Minister Benjamin Netanyahu and, despite the relative calm on the ground, the two sides have rarely been further apart, he adds.
For their part, Palestinian negotiators insist that building settlements on occupied land must stop before they agree to reopen talks. Israel says there can be no preconditions to talks and it continues to build in the settlements.
But all may not be lost, our correspondent says, as there are several international delegates in the region, persuading both sides to keep talking, including European Union foreign policy chief Catherine Ashton.