Israel detains Hamas MP Aziz Dweik for six months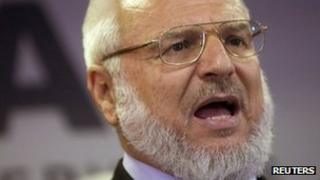 An Israeli military court has ordered Hamas MP Aziz Dweik, speaker of the Palestinian parliament, to be held without trial for six months.
His lawyer told Reuters news agency that the detention order says his client is "liable to be involved in hostile actions against Israel".
Mr Dweik was detained on Thursday near the West Bank city of Ramallah.
Both the Palestinian Authority and Hamas, which Israel has designated a terrorist group, condemned the arrest.
Hamas said Israel wanted to undermine its attempts at reconciliation with the Fatah movement of Palestinian Authority President Mahmoud Abbas.
'No specific reasons'
Mr Dweik, an influential figure in Palestinian political circles, was the first of five Hamas MPs to be arrested by the Israelis in the past five days.
On Tuesday evening, his office said a military court in Ofer had ordered that he be placed in administrative detention for six months.
"As is almost always the case, it gave no specific reasons why Dweik should be held," his lawyer Fadi Kawasmi told Reuters.
"It said only that he was being detained because he was liable to be involved in hostile actions against Israel," he added.
Mr Dweik was arrested by Israel in 2006, not long after Hamas won the Palestinian Legislative Council elections, and spent almost three years in prison after being convicted of belonging to an illegal organisation.
The Islamist group seized control of Gaza from forces loyal to President Abbas in 2007, since when the PLC has not functioned formally.
On Friday, a day after Mr Dweik's arrest, Israeli soldiers detained Hamas MP Khaled Tafesh at his home in a village east of Bethlehem.
And on Monday, Israeli police arrested another two senior Hamas MPs who had been sheltering for more than 18 months in the compound of the International Committee of the Red Cross (ICRC) in East Jerusalem.
Former Palestinian Jerusalem Affairs Minister Khaled Abu Arafah and Mohammed Totah took refuge after their Jerusalem residency permits were cancelled.
Then early on Tuesday, Hamas said its MP Abdul Jaber Fuqaha had been taken from his home in Ramallah by Israeli soldiers.
The Palestinian Authority cabinet condemned the arrests on Tuesday and demanded Israel "immediately free all lawmakers".