Iraq unrest: Car bombs rock Baghdad Shia districts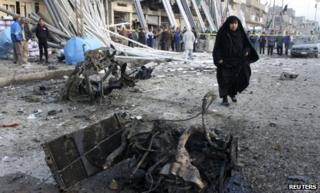 At least 13 people have been killed and 62 wounded in four separate car bomb attacks in Shia districts of the Iraqi capital, Baghdad, police have said.
Eight died when a bomb blew up close to day labourers waiting for jobs in Sadr City. Minutes later, a blast about 3km (1.9 miles) away killed another two.
Later, car bombs exploded in Shula and Hurriya, killing three.
There has been a rise in attacks in Iraq since US troops left last month, leaving as many as 170 people dead.
The violence has come amid a marked deterioration in Iraq's fragile political process, with the country's most prominent Sunni Arab politician being sought by the authorities on terrorism charges.
Vice-President Tariq al-Hashemi has denied the accusations against him and fled to the Kurdish-controlled region of northern Iraq.
The biggest bloc in parliament, al-Iraqiyya, has accused Prime Minister Nouri Maliki, a Shia, of using the law to consolidate his grip on power, and is boycotting parliament and cabinet sessions in protest.
Al-Iraqiyya's leader, Iyad Allawi, said last week that Iraq needed a new prime minister or elections to ease sectarian tensions.
Students killed
Monday's bombings appeared to once again target the majority Shia community, which has borne the brunt of attacks in the past month.
One of the day labourers who had been waiting for work in Sadr City when the first bomb exploded said it was "like a black storm".
"I felt myself thrown on the ground," Ahmed Ali told to the Reuters news agency. "I fainted for a while then I woke up and hurried to one of the cars to take me to the hospital."
The target of the second attack was not clear, with some reports saying the car bomb exploded near a bakery and others near people queuing to buy heating fuel.
Later in the morning, car bombings rocked two other predominantly Shia districts in the north of the capital in quick succession.
In Shula, a parked car blew up near a school, killing at least two students and injuring 16 others, most of them also students, officials said.
Five minutes later, a bomb exploded on a busy commercial street in neighbouring Hurriya, leaving one person dead and another 13 hurt.
Officials said a roadside bomb also exploded on the Muthanna airport road in central Baghdad, wounding at least six people.