Israel arrests two Hamas MPs at Red Cross compound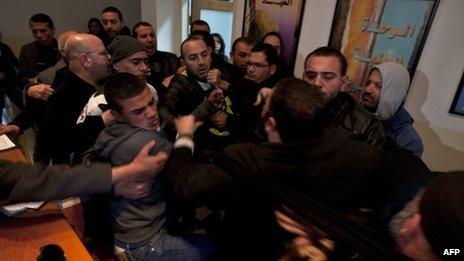 Israeli police have detained two senior Hamas MPs who had been sheltering for more than 18 months in the compound of the International Committee of the Red Cross (ICRC) in East Jerusalem.
Former Palestinian Jerusalem Affairs Minister Khaled Abu Arafah and Mohammed Totah took refuge after their Jerusalem residency permits were cancelled.
The ICRC said international law forbids Israel from deporting them.
East Jerusalem has been controlled by Israel since the 1967 Middle East war.
The city's status remains disputed, with Israel's occupation of East Jerusalem considered illegal under international law.
Israel says Jerusalem is its undivided capital, while Palestinians are seeking to establish their capital in the east of the city.
Mr Abu Arafah, Mr Totah and another senior Hamas member, Ahmed Attoun, began a sit-in inside the ICRC's compound in Jerusalem in July 2010 to avoid being expelled by the Israeli authorities.
A statement they issued at the time said: "We, as sons of Jerusalem, have never left it before... We emphasise that we will remain here and never leave it."
But in September 2011, Mr Attoun was arrested by Israeli police. After spending 70 days in prison for living in Jerusalem without a permit, he was forcibly transferred to the Palestinian-controlled parts of the West Bank.
On Monday, the ICRC said that Mr Totah and Mr Abu Arafah had been arrested by Israeli police inside its premises. A family member of one of the two men present at the time of arrest was also detained, it added.
The ICRC said that because East Jerusalem was occupied territory under international humanitarian law, Palestinians were protected by Article 4 of the Fourth Geneva Convention from being forcibly transferred.
Israeli police spokesman Micky Rosenfeld insisted the politicians had been detained when they ventured outside the ICRC compound.
"They were arrested firstly because they weren't allowed in Jerusalem and secondly because of the suspicions to do with their involvement in Hamas," he told AFP news agency.
A Hamas statement described the arrests as "a new Zionist crime".
Last week, Hamas politician Aziz Dweik, the speaker of the Palestinian Legislative Council (PLC), was arrested at a checkpoint near the West Bank city of Ramallah on suspicion of being a member of a terrorist group. He is due to appear before a military court on Tuesday.
Hamas won a majority in the 2006 Palestinian Legislative Council elections and governs Gaza. It is designated a terrorist group by Israel.