Yemen government 'amends Saleh immunity law'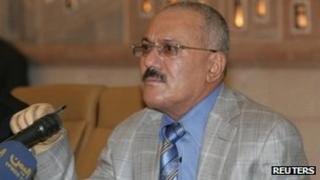 Draft legislation granting Yemeni President Ali Abdullah Saleh immunity from prosecution has reportedly been amended by the government to limit the protection his aides will enjoy.
Yemeni Legal Affairs Minister Mohammad Makhlafi told the Reuters news agency that Mr Saleh's associates would now only be shielded in "political cases".
Earlier drafts offered blanket immunity to anyone who had "worked with him".
The legislation has greatly angered human rights activists and protesters.
Security forces controlled by the president and his family, as well as armed loyalists, have been blamed killing hundreds of people during the 11-month uprising that forced him to step aside in November.
Debate delays
As part of an agreement brokered by the Gulf Co-operation Council, Mr Saleh handed over power to his deputy in return for immunity.
On 8 January, Yemen's national unity government was widely criticised after it approved a draft law that would grant immunity to Mr Saleh and anyone who "worked with him in all the state's civil, military and security apparatuses and organisations during the period of his [33-year] rule".
Parliament is expected to approve the legislation, but a debate and vote has been repeatedly delayed, including on Wednesday at the request of Prime Minister Mohammed Basindwa, a senior opposition figure.
Later that day, a government official told the Associated Press that a private meeting of opposition leaders and members of Mr Saleh's General People's Congress had agreed to limit the immunity law so that everyone apart from the former president could be tried on corruption charges.
The immunity would still cover those behind the deadly crackdown on dissent, and would need to be approved by the cabinet again, before parliament could debate it and hold a vote, the official said.
On Thursday, Mr Makhlafi confirmed that the law would now shield Mr Saleh's associates only in "political cases", without specifying further.
Thousands of people are still taking to the streets of Yemen to demand that the president and his supporters face prosecution.
Amnesty International has called the law "a smack in the face for justice", while UN High Commissioner for Human Rights Navi Pillay has said granting immunity to those accused of gross human rights violations would break international law, and that some may have been committed.
But the US government, which helped persuade Mr Saleh to hand over power, has defended the immunity law, saying it is necessary to give the president and his supporters "confidence that their era is over and it's time for Yemen to be able to move forward towards a democratic future".