Gunmen kill Iraq village elder and three sons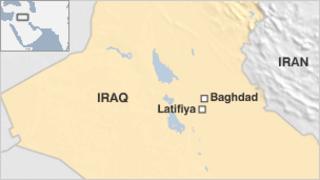 A village elder and his three sons have been killed by gunmen south of the Iraqi capital, Baghdad, police say.
Mohammed Dwaiyeh's wife and a fourth son were also reportedly wounded when the gunmen burst into their home in Latifiya before dawn and opened fire.
Mr Dwaiyeh was a member of the Awakening Councils, a group of Sunni fighters who fought alongside the US army against al-Qaeda-linked militants.
Awakening Council leaders have been the targets of many assassinations.
Wednesday's attack comes amid a marked deterioration in Iraq's fragile political process since the withdrawal of US forces from the country at the end of last year.
An arrest warrant was issued for Vice-President Tariq al-Hashemi, the country's most prominent Sunni Arab politician, on terrorism charges.
He has fled to the Kurdish-controlled region of northern Iraq, and denies the accusations against him.
But the warrant triggered a political crisis, as the biggest bloc in parliament, al-Iraqiyya, accused Prime Minister Nouri Maliki of using the law to consolidate his grip on power.