Yemen unrest 'may delay presidential election'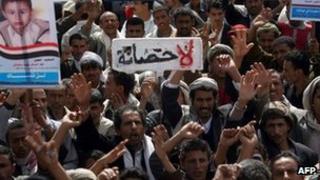 Yemen's foreign minister has warned that the presidential election due next month may have to be postponed.
Abu Bakr al-Qirbi told al-Arabiya TV that if several security problems were not resolved, it would be difficult to hold the vote on 21 February.
The poll is part of a deal brokered by Gulf states to end a year of political turmoil that has left hundreds dead.
President Ali Abdullah Saleh handed over power to his deputy in November in return for immunity from prosecution.
Security forces controlled by the president and his family, as well as armed loyalists, have been accused of killing anti-government protesters.
Islamist advance
Mr Qirbi's comments to al-Arabiya on Tuesday were the first suggestion by a member of the national unity government appointed last month that the presidential election might be delayed.
"I am among those who hope that the issue will take place in the planned manner," he said.
"But unfortunately, there are a couple of events relating to security, and if they are not solved... it will be difficult to run the elections on 21 February."
Mr Qirbi said the government required the co-operation of all political parties, including the former ruling General People's Congress.
He did not list the security issues, but in addition to ongoing clashes between demonstrators demanding the president face prosecution and Saleh loyalists, government forces have been battling separatists in the south, Houthi rebels from the Zaydi Shia community in the north, and Islamist militants allied to al-Qaeda.
On Sunday, as many as 1,000 militants believed to be loyal to al-Qaeda in the Arabian Peninsula seized the town of Radaa in al-Baida province, about 170km (105 miles) south-east of the capital Sanaa.
Islamists began taking control of parts of the neighbouring southern province of Abyan last year, including the town of Jaar in April and the provincial capital, Zinjibar, in May. Security forces have tried unsuccessfully to push them out and suffered heavy losses.