Iraqi policemen killed at checkpoint in Anbar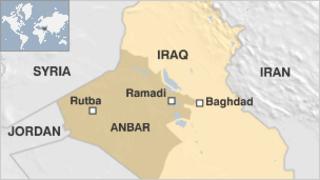 Five policemen have been killed in an attack on a checkpoint in Iraq, close to the Jordanian and Syrian borders.
Gunmen in the western province of Anbar targeted policemen who were guarding a highway that links Iraq to Jordan just after midnight on Tuesday.
One report said an attacker was killed in the ensuing clash.
The attack, in the town of Rutba, came two days after gunmen stormed a government compound killing seven in the provincial capital of Ramadi.
Violence in Iraq has been steadily on the rise in the past few months. Security forces have been one of the main targets of recent attacks, in addition to Shia religious processions.
There has also been a marked deterioration in Iraq's fragile political process since the withdrawal of US forces from the country at the end of last year.
An arrest warrant was issued for Vice-president Tariq Hashemi, the country's most prominent Sunni politician, on terrorism charges. He fled to the Kurdish-controlled region of northern Iraq, and denied the accusations against him.
But the warrant triggered a political crisis, as the biggest bloc in parliament accused Prime Minister Nuri Maliki of using the law to consolidate his grip on power.