Car bomb kills eight near Iraqi city of Mosul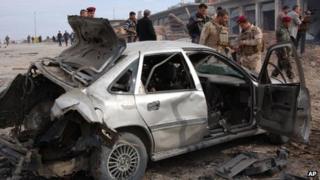 At least eight people have been killed by a car bomb attack near the northern Iraqi city of Mosul.
The attack targeted a Shia community outside the city, which is predominately Sunni.
Children were among the victims of the bombing, which also left at least five people injured.
On Saturday, a suicide bomber killed more than 50 people in an attack on Shia pilgrims in the city of Basra, in southern Iraq.
At least seven people were killed on Sunday when insurgents stormed a police building in Ramadi, to the west of Baghdad.
Rising tensions
The bomb on Monday morning exploded in an area where members of the Shabak community have re-settled after being driven out of Mosul during sectarian conflict a few years ago.
A resident, Abu Ebrahem, told Reuters that the poorest people were paying the price for political conflict.
"They want to agitate sectarian unrest, but they won't succeed," he said.
The Shabak are a minority group in northern Iraq who are mostly Shia and are linked to the Kurdish identity.
Scores of people have been killed in recent weeks in Iraq in attacks targeting Shia, as they mark the religious festival of Arbaeen.
A political crisis in the country has seen tensions rise between the Shia majority and Sunni minority since the US troop withdrawal in December.
An arrest warrant was issued for Iraq's most senior Sunni politician, Vice-President Tariq al-Hashemi, on terrorism charges. He has fled to the Kurdish-controlled region of northern Iraq, and denies the accusations against him.