Syria crisis: Assad 'gives amnesty for uprising crimes'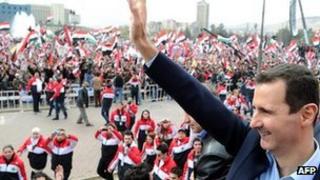 Syria's President Bashar al-Assad has granted a general amnesty for all crimes committed during the 10-month uprising, state-run media report.
It would apply to army deserters who turned themselves in before the end of January, peaceful protesters and those who handed in unlicensed weapons, Sana news agency is quoted as saying.
Tens of thousands of people have been detained in the past year.
At least 28 people died in violence across Syria on Sunday, activists said.
Among them, five factory workers were killed when their bus was hit by a bomb in the northern province of Idlib.
A further five were also killed in the same province, the Local Co-ordination Committees, a network of opposition activists, said.
Thirteen died in Homs, two in Jasem, in Daraa, and two in Madamiah, near Damascus. Another person died in Amouda, the network reports.
Casualty figures are hard to verify as most foreign media are barred from Syria.
Earlier, UN Secretary General Ban Ki-moon reiterated a plea to Mr Assad to end the bloodshed.
"Stop the violence. Stop killing your people. The path of repression is a dead end," Mr Ban said in a speech at a conference on Arab democracy in Beirut.
'Iron fist'
This is not the first time President Assad has offered an amnesty to his opponents, and it is unlikely to have any more impact than the ones he proposed last year, the BBC's Jonathan Head in neighbouring Turkey says.
There is no evidence that many people took up his previous offers, or that the state ever honoured its promises of immunity, he adds.
Tens of thousands of people have been detained and routinely tortured over the past year, human rights groups say. Exact numbers are hard to verify as most foreign media are barred from reporting freely in Syria.
The UN says at least 5,000 people have died as protesters continue to defy a bloody crackdown in order to take to the streets calling for an end to the Assad regime.
In a rare public address last week, President Assad again accused international powers of trying to destabilise Syria, and vowed to crush "terrorists" with an "iron fist".
On Saturday, the ruler of Qatar, Sheikh Hamad bin Khalifa Al Thani, said Arab countries should send troops into Syria to end the bloodshed.
"For such a situation to stop the killing... some troops should go to stop the killing," he told US television channel CBS for a programme to be aired on Sunday.
It is the first time an Arab leader has publicly called for military intervention in Syria.