Mohamed ElBaradei will end Egypt presidency bid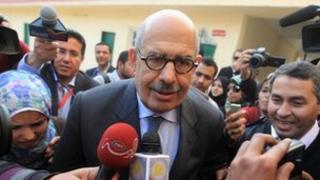 Egyptian politician and former head of the UN nuclear watchdog Mohamed ElBaradei is dropping his candidacy in presidental elections later this year.
Mr ElBaradei, who won the Nobel Peace Prize in 2005, said he had taken his decision in protest at the way Egypt's military rulers governed "as though no revolution had taken place".
A military council has run Egypt since President Hosni Mubarak was ousted.
The election is scheduled to take place in June 2012.
A BBC Arabic reporter in Cairo said Mr ElBaradei - seen as one of the leading liberal candidates - had been the subject of a smear campaign even before he declared his candidacy.
Constitution
In his statement, Mr ElBaradei praised the young people who led the uprising against Mr Mubarak, who was toppled in February 2011 after 18 days of street protests.
"My conscience does not permit me to run for the presidency or any other official position unless it is within a democratic framework," he said.
The BBC's Jon Leyne, in Cairo, says the comments are fairly damning, coming from someone with such international prestige.
However, Mr ElBaradei's critics will say he never stood much chance of becoming president, our correspondent adds.
Mr ElBaradei had wanted a new constitution to be drawn up from scratch before any elections took place.
However, the Supreme Council of the Armed Forces (Scaf) opted to go ahead with parliamentary elections first.
The third round of voting has just concluded. The lower house of parliament will elect a 100-member assembly which will then draft a new constitution.
Mr ElBaradei played a prominent role in the Egyptian uprising but his secularist politics have been eclipsed by the main Islamist parties, the Muslim Brotherhood and the conservative Salafist Nour party.
The Islamists took the lion's share of the vote in the first two rounds of elections and will dominate the new parliament.
Even on the liberal wing of Egyptian politics, feelings about Mr ElBaradei are very mixed, our correspondent says.