Iran nuclear: Ali Larijani accepts Turkey talks offer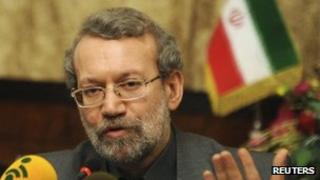 Iran has said it has agreed to talks with six world powers on its controversial nuclear programme, days after the UN confirmed Tehran was producing 20% enriched uranium.
Visiting Turkey, parliament speaker Ali Larijani said he had accepted Ankara's offer to try to restart the talks.
Negotiations have stalled since a meeting in Istanbul a year ago.
Analysts say 20% enrichment is a major step to making nuclear weapons, but Iran says it is for peaceful purposes.
More sanctions have been imposed on Iran since the last talks, with the US and EU targeting its oil revenues.
Mr Larijani was speaking a day after a nuclear scientist was murdered in Tehran, an act that Iran blamed on the US and Israel.
'Serious' talks
Speaking at a news conference in Ankara, the Iranian speaker said the attack, the fourth on Iranian scientists, showed "how weak Israel really is".
"If Israel thinks they can prevent our studies with four terrorist attacks, it's a very weak way of thinking. Everybody will learn that they can't stop us with such actions," he said.
But Mr Larijani said Iran was ready for "serious" talks with the five permanent members of the UN Security Council and Germany.
"The negotiations can yield results if they are serious and not a game," he said.
However, EU foreign policy chief Catherine Ashton said she was still waiting for Iran to respond to a letter sent last October formally inviting Iran to the talks.
The BBC's Jonathan Head in Istanbul says Mr Larijani is one of the most influential players in Iran's opaque political system, so his visit to Turkey carries more weight than his official title would suggest.
It comes at a difficult time for Iran-Turkey relations, with Turkish leaders denouncing the violent suppression of anti-government protests in Syria, and Iran irritated by Turkey's willingness to host part of a Nato missile defence shield.
But for its part, Turkey still relies heavily on its neighbour for energy supplies - Turkey gets about 30% of its oil from Iran - despite pressure from the US to cut back its commercial ties with Iran.
Tensions between Iran and the West have been especially high since the US imposed new sanctions on Iran's central bank and the EU said it would place an embargo on Iran's oil exports.
EU foreign ministers are due to meet to approve the embargo later this month.
Iran has threatened to close the Strait of Hormuz - a key route from the Gulf through which 20% of the world's traded oil passes.