Syria unrest: Aid convoy blocked at border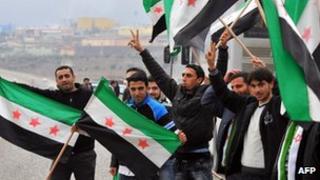 Hundreds of Syrian and foreign activists travelling in convoy have been prevented from entering Syria to deliver aid supplies.
A representative from the group said they would now stage a sit-in on the Turkish side of the border.
Meanwhile, Arab League head Nabil al-Arabi has said that the organisation will "re-think" its observer mission to the strife-torn country next week.
Opposition groups in Syria say 22 people were killed on Thursday.
The UN estimates that more than 5,000 have been killed since the unrest began in March. The Syrian government says it is fighting foreign-backed "terrorists" and that 2,000 soldiers and police have been killed.
It is impossible to verify the claims as access for foreign journalists is severely restricted.
The group prevented from crossing the Turkey-Syria border calls itself the Freedom Convoy. Some 300 activists made the journey with blankets and medicine.
'Orphaned revolution'
"We want to go to Syria to show to the whole world what is happening," Moayad Skaif, a 30-year-old Syrian journalist from Qatar told Reuters.
But activists told the BBC that they recognised that their gesture was mainly symbolic and they knew they were unlikely to be allowed into Syria.
Turkey shares a 900km (550 mile) border with Syria.
"The Syrian revolution is an orphaned revolution because nobody is sticking up for it, not even the Arab League," computer graphics teacher Samir Jisri from Toronto told Reuters. "The last hope we have is Turkey."
Turkish authorities, activists say, have been very co-operative in their mission, though Jordanian officials turned down their request to travel to Syria from there.
Analysts say Jordan - as well as Syria's more immediate Arab neighbours, Lebanon and Iraq - has a more delicate political and economic balance to maintain.
Turkish Prime Minister Tayyip Erdogan has criticised Syria's crackdown, called on former ally Syrian President Bashar al-Assad to step down and imposed sanctions on Damascus.
'Re-think mission'
Mr Arabi told the BBC that the organisation would "re-think" its observer mission to Syria next week after reviewing reports from the country.
He said: "The observers are in Damascus to verify that shooting and killing has stopped. This has not materialised.
"So, the rationale for sending observers has not materialised."
The secretary general disputed the claim by Susan Rice, the US ambassador to the UN, that killings had increased since the observers arrived. He said that the death toll had gone down, although people were still being killed.
The observers were making a difference as the number of people attending peaceful demonstrations had increased, at least while monitors were present, because they knew they would not be shot at, he added.
Mr Arabi questioned whether the UN could do any more than the Arab League is doing to stop the violence in Syria - though he did not rule out a call for international intervention in due course.