Iran parliamentary speaker in Turkey for talks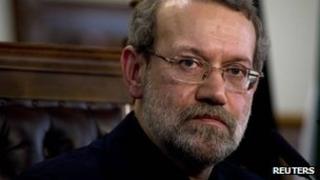 The speaker of Iran's parliament, Ali Larijani, is visiting Turkey amid rising tensions between the neighbours.
Turkey's leaders have denounced the violent suppression of anti-government protests by the Syrian government - Tehran's main ally in the region.
Iran has also been irritated by Turkey's willingness to host part of a Nato missile defence shield.
Earlier this month, Turkey offered to try to restart international talks on Iran's controversial nuclear programme.
The talks have stalled since world powers met in Istanbul a year ago.
Uneasy relationship
The BBC's Jonathan Head in Istanbul says Mr Larijani is one of the most influential players in Iran's opaque political system, so his visit to Turkey carries more weight than his official title would suggest.
As a former nuclear negotiator, Turkish officials may seek more details from Mr Larijani on his country's apparent willingness to resume talks with Western powers, our correspondent says.
The two states may also try to find common ground in dealing with Iraq, after the US troop withdrawal - they are rivals for influence there, but may see the deteriorating security situation as a more urgent priority, he adds.
Turkish hostility to the Syrian government, and its willingness to host part of a Nato missile defence shield have irritated Iran, though Iranian officials have begun to tone down their criticism of Turkish policy.
For its part, Turkey still relies heavily on its neighbour for energy supplies - Turkey gets about 30% of its oil from Iran - despite pressure from the United States to cut back its commercial ties with Iran.
Our correspondent says the relationship between Turkey and Iran will always be uneasy, and the turmoil in the Arab world over the past year has magnified their differences - but neither seems willing to abandon the efforts they have made in recent years to build up mutual trust.