US defends immunity law for Yemen's President Saleh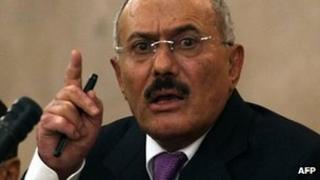 The US has defended a draft Yemeni law granting President Ali Abdullah Saleh and his aides immunity from prosecution over the deaths of protesters.
Yemen's cabinet approved the bill on Sunday, just weeks before Mr Saleh is supposed to resign as part of a deal to end the country's political crisis.
The US state department said immunity was necessary to persuade the president and his supporters their "era is over".
Hundreds of people have reportedly been killed in Yemen's 11-month uprising.
Security forces controlled by the president and his family, as well as armed loyalists, have been blamed for the vast majority of the deaths.
'Smack in the face'
On Sunday, Yemen's cabinet approved the draft law that would grant immunity to Mr Saleh and anyone who "worked with him in all the state's civil, military and security apparatus and organisations during the period of his [33-year] rule". The legislation must still be passed by parliament.
The promise of immunity was a key part of the agreement brokered by the Gulf Co-operation Council (GCC) in November, which saw the president relinquish power to his deputy until presidential elections are held in February, and a new national unity government sworn in.
However, opposition activists and human rights groups said it was essential to be able to try officials accused of both killing protesters and widespread corruption under Mr Saleh. Thousands of Yemenis have also taken to the streets in protest.
Amnesty International has called the law "a smack in the face for justice", while the UN High Commissioner for Human Rights has said granting immunity to those accused of gross human rights violations would break international law, and that some may have been committed in Yemen.
"Amnesties are not permissible if they prevent the prosecution of individuals who may be criminally responsible for international crimes including war crimes, crimes against humanity, genocide, and gross violations of human rights," Navi Pillay warned last week.
But US state department spokeswoman Victoria Nuland told reporters in Washington on Monday that the immunity provisions "were negotiated as part of the GCC deal" and that they had to be "codified in law".
"That's what they're working on now," she added. "This is part and parcel of giving these guys confidence that their era is over and it's time for Yemen to be able to move forward towards a democratic future."
Last week, Mr Saleh raised new uncertainty about his plans by cancelling a visit he had announced to the US for medical treatment.
"Interestingly, the visa application remains with the embassy [in Sanaa], but Saleh and his team have asked to have their passports returned, so not sure what that's about," Ms Nuland said on Monday.