Iran's uranium enrichment is escalation, says US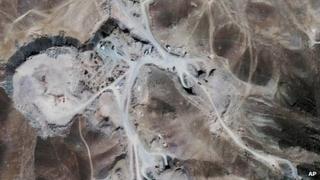 The US has said Iran's enrichment of uranium at an underground site is "a further escalation" of its violation of UN resolutions.
The UN's nuclear watchdog confirmed that Tehran had begun enriching uranium up to 20% at its northern Fordo plant.
Analysts say 20% enrichment is an important step towards making uranium weapons-grade, but Tehran says it is for purely peaceful purposes.
The UK and France - and later Russia - also condemned the move.
'Provocative act'
"Moscow has with regret and worry received the news of the start of work on enriching uranium at the Iranian plant," the Russian foreign ministry said.
In Washington, state department spokeswoman Victoria Nuland said on Monday that enrichment works at Fordo, near the city of Qom, raised further doubts about Tehran's peaceful intentions.
"We call on Iran once again to suspend enrichment activities, co-operate fully with the IAEA (International Atomic Energy Agency) and immediately comply with all [UN] Security Council and IAEA board of governors resolutions," she said.
In Paris, the foreign ministry said the Iranian move "leaves us with no other choice but to reinforce international sanctions and to adopt, with our European partners and all willing countries, measures of an intensity and severity without precedent".
UK Foreign Secretary William Hague condemned the "provocative act which further undermines Iran's claims that its programme is entirely civilian in nature".
Earlier on Monday, a spokeswoman for International Atomic Energy Agency (IAEA), Gill Tudor, said the agency could "confirm that Iran has started the production of uranium enriched up to 20%".
She added that "all nuclear material in the facility remains under the agency's containment and surveillance".
Iran says the enriched uranium is needed to make isotopes to treat cancers.
The existence of the facility near Qom, in the north of the country, came to light after it was identified by Western intelligence agencies in September 2009.
BBC Iran correspondent James Reynolds says the facility has attracted plenty of attention and suspicion. It is underground, heavily fortified and protected by the armed forces - making it a very difficult target for air strikes.
The US and Israel have refused to rule out attacks on Iranian facilities.
Atomic bomb joke
Also on Monday, Iran's Supreme Leader Ayatollah Ali Khamenei insisted Iran would not bow to pressure from the West.
"The Islamic establishment... knows firmly what it is doing and has chosen its path and will stay the course," he said in a speech broadcast on state television.
Meanwhile, Iranian President Mahmoud Ahmadinejad - who is currently on a visit to Venezuela - received a strong backing from President Hugo Chavez.
"They present us as aggressors," the Venezuelan leader said, referring to US government officials. "Iran hasn't invaded anyone. Who has dropped thousands and thousands of bombs... including atomic bombs?"
The Iranian and Venezuelan presidents also joked about having an atomic bomb at their disposal.
"That hill will open up and a big atomic bomb will come out," Mr Chavez said, laughing.
"The imperialist spokesmen say... Ahmadinejad and I are going into the Miraflores [presidential palace] basement now to set our sights on Washington and launch cannons and missiles... It's laughable."
Tensions have been high since the US imposed new sanctions on Iran's central bank and the European Union said it would place an embargo on Iran's oil exports.
EU foreign ministers are due to meet to approve the embargo later this month.
Iran has threatened to close the Strait of Hormuz - a key route from the Gulf through which 20% of the world's traded oil passes.
US Defence Secretary Leon Panetta warned on Sunday that such a move would cross a "red line" and "we would take action and reopen the strait".
Adding to the strains, a court in Tehran on Monday sentenced to death an Iranian-American man accused of being a CIA spy.
Amir Mirzai Hekmati, 28, a former US marine, had been shown on state television in December allegedly confessing to being part of a plot to infiltrate Iran's intelligence services for the CIA.
Mr Hekmati's family, who live in Arizona, say the charges against him are fabricated and that he was in Iran to visit his grandmothers. The US has demanded his release.