Baghdad attacks: Bomb blasts kill at least 15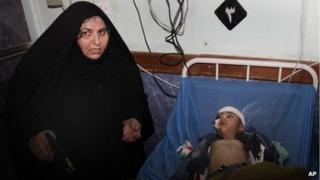 Two parked car bombs in the Iraqi capital have killed at least 14 people and injured dozens, officials say.
They say one of the bombs went off near a Shia mosque in the western Muwasalat area of the city, appearing to target Shia pilgrims who were travelling through the city.
The second went off in the mostly Shia Shaab district of northern Baghdad. Dozens more were injured in the blasts.
Another Shia pilgrim was killed by a roadside bomb outside the capital.
Nine others were injured in the blast in the town of Owairij, just south of Baghdad.
Two more explosions targeting pilgrims around the central city of Hilla wounded a further 15, AFP reports.
Shia pilgrims are travelling to the holy Iraqi city of Karbala, 110km (70 miles) south of the capital, to mark Arbaeen - the end of the 40-day mourning period for the death of Imam Hussein in a 7th Century battle.
Last Thursday, at least 72 people were killed by bomb attacks in Baghdad and the southern city of Nasiriya, which also targeted Shias.
The attacks coincide with a rise in tensions between Iraq's Shia-led government and the main Sunni-backed political group since the US military withdrew from Iraq last month.
Iraq's power-sharing government has been in crisis since an arrest warrant was issued last month for Sunni Vice-President Tariq al-Hashemi on terrorism charges. He has denied the accusations against him.
The al-Iraqiyya group, the main Sunni bloc in parliament, is boycotting the assembly in protest. It accuses Prime Minister Nouri Maliki, a Shia, of monopolising power.