Iran death sentence for 'CIA spy' Amir Mirzai Hekmati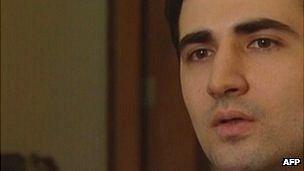 A US man of Iranian descent has been sentenced to death by a court in Tehran for spying for the CIA.
Amir Mirzai Hekmati was "sentenced to death for co-operating with a hostile nation, membership of the CIA and trying to implicate Iran in terrorism," semi-official Fars news agency said.
The sentence comes at a time of fresh tensions between Iran and the West over Tehran's nuclear programme.
The US said that, if true, it strongly condemned the verdict.
State department spokeswoman Victoria Nuland said the US was working with its partners to try to confirm the reports of Mr Hekmati's death sentence.
She added: "Allegations that Mr Hekmati either worked for, or was sent to Iran by the CIA are simply untrue.
"The Iranian regime has a history of falsely accusing people of being spies, of eliciting forced confessions, and of holding innocent Americans for political reasons."
Mr Hekmati has an American passport and is a former US marine. The US says he should be released without delay.
Iran's Supreme Leader Ayatollah Ali Khamenei said on Monday that further sanctions imposed by the West "will not have any impact on our nation".
"The Islamic establishment... knows firmly what it is doing and has chosen its path and will stay the course," he said in a speech broadcast on state television.
Diplomats at the Vienna-based International Atomic Energy Agency (IAEA) confirm work has begun at an underground site near the holy city of Qom to enrich uranium to near weapons-grade level.
Iran says that, as a former marine, Mr Hekmati received training at US bases in Afghanistan and Iraq before being sent to Iran for his alleged intelligence-gathering mission.
Iranian officials said his cover was blown even before he had arrived in the country, because he had been spotted by Iranian agents at the US-run Bagram military air base in neighbouring Afghanistan.
On 18 December, Mr Hekmati was shown on Iranian state television allegedly confessing to being part of a plot to infiltrate Iran's intelligence services for the CIA.
And during his trial later in December, according to Fars, Mr Hekmati admitted he did have links to the CIA, but had never intended to harm Iran.
"I was deceived by the CIA... Although I was appointed to break into Iran's intelligence systems and act as a new source for the CIA, I had no intention of undermining the country," Fars quoted him as saying.
Mr Hekmati's family, who live in Arizona, say the charges against him are fabricated and that he was in Iran to visit his grandmothers.
His mother, Behnaz Hekmati, said in an email to the Associated Press news agency that the verdict was "the result of a process that was neither transparent nor fair," and that she and her husband Ali were "shocked and terrified".
"Amir is not a criminal. His very life is being exploited for political gain," she wrote.
"We pray that Iran will show compassion and not murder our son, Amir, a natural born American citizen, who was visiting Iran and his relatives for the first time."
His father, Ali Hekmati, a college professor in Flint, Michigan, said his son joined the US military in 2001 and served in the Marines, where he was an Arabic translator.
At the time of his visit to Iran and subsequent arrest, Amir Hekmati was working in Qatar as a contractor for a company "that served the Marines", his father was quoted by the Associated Press as saying.
The US state department said Swiss diplomats in Iran - who handle Washington's interests because of an absence of US-Iran diplomatic relations - were not allowed to see Mr Hekmati before his trial.
Mr Hekmati has 20 days to appeal against the sentence.
The sentence further heightens the tensions between Iran and the West, which increased after the US said it would impose new sanctions on Iran's central bank and the European Union said it would impose an embargo on Iran's oil exports.
Western nations believe Iran is trying to develop nuclear weapons, although Tehran has always insisted its nuclear programme is for peaceful purposes only.
But news that uranium enrichment is reported to have begun at the Fordo underground site near Qom will do nothing to ease the West's concerns, correspondents say.
Diplomats at the IAEA were quoted as saying that uranium at the site is being enriched to 20% - much higher than the 3.5% usually required for nuclear plants. Enrichment to that level makes it much quicker and easier to make a nuclear bomb.
The move at Fordo was expected, but the fact that this work is taking place underground is cause for concern to those who want to air strikes against Iran's nuclear plants.
In response to the sanctions threat, Tehran has threatened to close the Strait of Hormuz - a key route from the Gulf through which 20% of the world's traded oil passes.
US defence chiefs on Sunday warned that they would take action if Iran closed the strait.
Defence Secretary Leon Panetta said such a move would cross a "red line" and "we would take action and reopen the strait".
Related Internet Links
The BBC is not responsible for the content of external sites.