Amnesty says Arab leaders fail to see scale of uprisings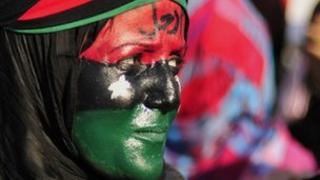 Leaders in the Arab world have still not understood the full significance of the Arab Spring uprisings, Amnesty International has said in a new report.
The rights group said the actions of protesters had been more effective than international powers in driving change in the region.
But it warned of further suppression of protests by Arab leaders this year.
The report also said the response of international bodies such as the EU and Arab League had been inconsistent.
The so-called Arab Spring sparked a a series of revolts in the region.
Mass demonstrations led to the fall of presidents Zine al-Abidine Ben Ali in Tunisia and Hosni Mubarak in Egypt, as well as Libya's Muammar Gaddafi.
Demonstrations continue to rock Syria under President Bashar al-Assad, while Yemeni President Ali Abdullah Saleh agreed to step down after months of unrest.
But in the report, Year of Rebellion: State of Human Rights in the Middle East and North Africa, Amnesty said some leaders were determined to hold on to power "at almost any cost".
"With few exceptions, governments have failed to recognise that everything has changed," said Philip Luther, Amnesty International's interim Middle East and North Africa Director.
"But persistent attempts by states to offer cosmetic changes, to push back against gains made by protesters or to simply brutalise their populations into submission betray the fact that for many governments, regime survival remains their aim."
The report said democratic gains in Tunisia, Egypt and Libya still needed to be solidified, while in Syria - where thousands have died - the authorities were resorting to ever harsher tactics to preserve power.
Amnesty said the approach of international bodies like the United Nations, the European Union, and the Arab League had been far from consistent, demonstrating stronger stands for human rights in some countries than in others.