Arab League renews call to end violence in Syria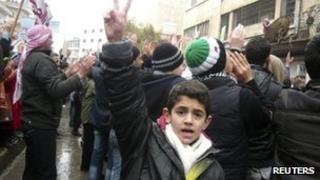 The Arab League has made a renewed call to the Syrian government to halt violence against civilians.
Ministers meeting in Cairo said the Arab League mission to Syria would continue, despite criticism that it has not managed to halt civilian deaths.
But the ministers failed to take up a proposal to bolster the mission by including United Nations experts.
Activists said more than 20 new deaths were reported on Sunday, including 11 soldiers in southern Deraa province.
The past three days have seen more than 100 deaths - although the reports are difficult to verify with most foreign media barred from working in Syria.
The UN says more than 5,000 civilians have been killed since protests against President Bashar al-Assad began 10 months ago.
'Ineffective'
The Arab League mission, in Syria since late December, has been heavily criticised by the Syrian opposition for failing to stop, or even clearly condemn, the ongoing violence.
The observers are monitoring compliance with a peace plan under which the government promised to withdraw the military from the streets and stop its use of forces against civilians.
The Arab ministers met in Cairo to hear a detailed report from the head of the monitoring mission.
The BBC's Jon Leyne in Cairo says there is likely to be further heavy criticism of this outcome from opposition groups, who have condemned the Arab League mission as ineffective, and playing into the hands of the Syrian government.
The ministers resisted a suggestion from Qatar to bring in officials from the UN to add their experience, our correspondent says.
He adds that there is opposition both from Syria and other Arab countries to UN involvement - other Arab countries are sensitive to any measures that might be used against them in the future.
Another reassessment of the mission's progress is due at the end of January.
'Heavy machine-gun fire'
According to the London-based Syrian Observatory for Human Rights, 11 soldiers were killed and at least 20 injured in fighting with deserters in Deraa on Sunday.
A further nine defected to the deserters' side, it added, in a report which could not be independently verified.
Heavy machine-gun exchanges between troops and deserters were also reported in the Deraa town of Dael.
Reporting other incidents, activists of the Local Co-ordination Committees said 14 people had been killed, including a child.
They said 10 died in Homs, three in suburbs of Damascus and one in Deir Ezzor.
In another development, a Russian naval flotilla aircraft led by an aircraft carrier docked in the Syrian port of Tartus.
The carrier group is due to spend six days in Tartus, where Russia has a naval base dating back to Soviet times.