Bahrain activist Nabeel Rajab 'beaten by police'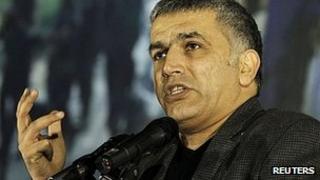 A prominent human rights activist in Bahrain has been taken to hospital after being beaten by police, his lawyer and opposition activists say.
Nabeel Rajab was "beaten brutally" during a rally in the capital Manama, his lawyer Mohammed al-Jishi said.
The government insists police found Mr Rajab "lying on the ground" and took him to hospital.
Bahrain's Shia Muslim majority has been campaigning for greater rights in the Sunni-led kingdom since last February.
Confrontations between security forces and demonstrators occur almost daily.
The Bahrain Center for Human Rights, of which Mr Rajab is president, said he had left hospital "after getting the required treatment".
It said that during his stay in hospital he had been interrogated by security forces.
In a statement on its website, the centre said Mr Rajab had told his lawyer that policemen had gathered around him suddenly and started to beat him.
He was beaten on his back and face and suffered "serious" facial injuries. He has an injury just below his right eye, the statement said.
The government said police found Mr Rajab "on the ground, injured while participating in an unauthorised march" in Manama on Friday.
Former Bahrain opposition MP Matar Matar told AFP news agency that fellow activist Yosuf al-Mahafdha was also targeted in the incident.
Mr Rajab "was touring Manama to express solidarity with detainees", Mr Matar said.
The al-Wefaq opposition group condemned the "attack" and demanded an apology from the government.
Last spring more than 40 people died in a heavy-handed government crackdown against protesters in the Gulf kingdom. An independent commission later concluded that "excessive force" was used.
The violence has fuelled anger in Shia areas against the Sunni ruling family and political elite.