Iran nuclear crisis: EU moves towards crude oil ban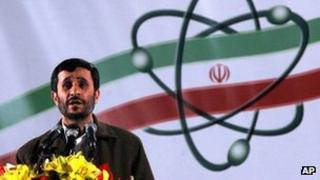 EU member states have agreed in principle to ban imports of Iranian crude oil to put pressure on the country over its nuclear programme.
The move is expected to be announced formally at an EU foreign ministers' meeting at the end of January.
The US, which recently imposed fresh sanctions on Iran, welcomed the news.
Iran has dismissed the threat of new sanctions and denies Western claims that it is trying to develop a nuclear weapons programme.
Iran has also denied that a record low of its currency this week was linked to punitive US measures against its banks.
Oil prices on international markets rose on news of the EU agreement.
"We have an [EU] foreign ministers' meeting on January 30, and on this occasion I hope we will be able to take the decision on the embargo of oil and petrol from Iran", said French Foreign Minister Alain Juppe.
"We have to reassure some of our European partners who purchase Iranian oil. We have to provide them with alternative solutions", he added.
On Tuesday France had called for "stricter sanctions" on Iran.
However, even if sanctions are adopted at the end of the month, it may be several months before they are implemented.
'Tightening the noose'
"These are the kinds of steps that we would like to see not just from our close allies and partners in places like Europe but from countries around the world", said US State Department spokeswoman Victoria Nuland.
"We do believe that this is consistent with tightening the noose on Iran economically," she added.
The Iranian state gets more than half of its revenue through the export of crude oil, says the BBC's James Reynolds.
If Europe does stop buying, Iran will have to turn to countries in Asia to replace its lost trade, who will demand a discount, he adds.
The EU currently accounts for around 17% of Iranian oil exports.
The US has longstanding bilateral sanctions in place which prohibit almost all trade with Iran.
In November, the US, Canada and the UK announced new sanctions against Iran in the wake of a report from the UN nuclear watchdog, the International Atomic Energy Agency (IAEA), that said Iran had carried out tests related to the "development of a nuclear device".
Last week President Obama signed into law a bill cutting off from the US financial system foreign firms that do business with Iran's central bank.
But Iran was not referred to the UN Security Council because Russia and China were opposed to the move.
The Security Council has already passed four rounds of sanctions against Iran for refusing to halt uranium enrichment. Highly enriched uranium can be processed into nuclear weapons.
These sanctions include a ban on the supply of heavy weaponry and nuclear-related technology to Iran, a block on Iranian arms exports, and an asset freeze on key individuals and companies.
Iran has been holding a series of naval exercises in the Gulf in recent days, test-firing several missiles.
The exercises were held near the Strait of Hormuz, through which around 20% of the world's traded oil passes.
Tehran said on Monday that "mock" exercises on shutting the strait had been carried out, although there was no intention of closing it.