Syria government 'deceiving' Arab League monitors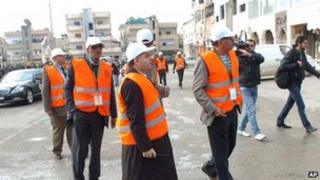 Opposition activists in Syria have accused the government of deceiving Arab League monitors.
Military vehicles have been replaced to make it look as though the army has left city centres as required by an Arab League peace plan, activists said.
At least 12 people were killed across Syria on Wednesday, according to one activist network.
The UN says more than 5,000 civilians have been killed in a crackdown on anti-government protests since March.
Casualty figures and other details are hard to verify as most foreign media are barred from reporting freely in Syria.
Around 100 Arab League observers have been in Syria since last week to monitor compliance to a peace plan brokered by the Arab League.
"The observers are going to areas known to be loyal to the regime," Rami Abdel Rahman, head of the UK-based Syrian Observatory for Human Rights, told the Associated Press news agency.
"Since the mission started the regime is limiting their movements and when they go out they are under the protection and supervision" of Syrian security forces, activist Mustafa Osso told AP from Syria.
On a visit by one group of monitors to the main prison in the city of Homs, prison administrators tried to take the group to a different section to the one where political prisoners were being detained, according the Local Co-ordination Committees (LCC), a network of activists inside Syria.
The observers later heard political prisoners shouting anti-government slogans and gained access to see them, the LCC said in a statement.
Last week, Human Rights Watch accused the Syrian authorities of hiding hundreds of detainees in military installations, which the observers are not permitted to visit.
The Syrian government has denied interfering in the operation of the mission.
The government was ensuring "protection and escort" for the monitors, Foreign Ministry spokesman Jihad al-Makdisi told AP.
On Monday the head of the Arab League, Nabil al-Arabi, said the military had withdrawn heavy weapons from cities in accordance with the peace plan.
However, he also said snipers were still in action in Syrian cities.
There has been criticism of the head of the monitoring team, Sudanese Gen Mustafa al-Dabi - who is regarded by some as biased towards the Syrian government.
And on Sunday, the Arab Parliament, an advisory body to the league, said the observers should be withdrawn because of the continuing violence.