Syrian army deserters 'kill 18'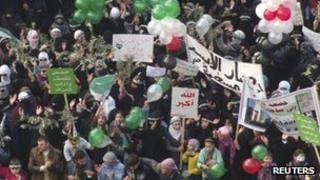 Syrian army deserters have killed at least 18 members of President Bashar al-Assad's security forces, according to a human rights group.
The Syrian Observatory for Human Rights says soldiers deserting their posts at dawn near the southern town of Jassem came under fire from a police station.
They returned fire, killing at least 18 people, it said.
Meanwhile President Sarkozy of France has demanded that Mr Assad step down, accusing him of "barbarous repression".
Nicolas Sarkozy said President Assad had committed massacres that "rightly arouse disgust and revolt in the Arab world, in France, in Europe and everywhere in the world".
Arab League foreign ministers will meet this Saturday to discuss a preliminary report from their observers in Syria. The emergency meeting will look at whether the mission should continue, as Syrian government forces have shown no sign of stopping their violence against protesters, an Arab official said.
The League sent observers to Syria a week ago to check compliance with a peace plan agreed with Damascus.
The UN says more than 5,000 civilians have been killed in a crackdown on anti-government protests since March.
There has been no let-up in the violence, and activists say at least 390 people have been killed since the observers arrived last week.
On Monday the head of the Arab League, Nabil al-Arabi, said shots were being fired and there were still snipers in action.
He said the military had withdrawn heavy weapons from cities in accordance with the peace plan.
Casualty figures and other details are hard to verify as most foreign media are barred from reporting freely in Syria.