Iran denies test-firing long-range missiles in Gulf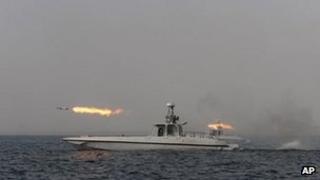 Iran has denied reports by state media that it test-fired long-range missiles during military exercises in the Gulf.
"The exercise of launching missiles will be carried out in the coming days," Iran's senior navy commander is quoted as telling Iran's Press TV.
Earlier the semi-official Fars news agency and other outlets reported that land-to-sea missiles had been fired.
The naval exercises come at a time of increased tensions between the West and Iran over its nuclear ambitions.
On Tuesday Iran threatened to close the Strait of Hormuz, a key oil export route, if new sanctions were imposed over its nuclear programme.
The US and its allies believe Iran is trying to develop nuclear weapons - a charge Iran denies. Tehran insists its nuclear programme is purely for peaceful purposes. Iran has maintained that it needs nuclear technology to generate electricity to meet growing domestic demand.
'No preconditions'
The European Union has meanwhile restated that it is open to talks with Iran, as long as no pre-conditions are set by Tehran.
"We continue to pursue our twin-track approach and are open for meaningful discussions on confidence-building measures, without preconditions from the Iranian side," foreign policy spokesman Michael Mann told Reuters news agency by email.
Officials had not yet had a response to a letter sent to nuclear negotiator Saeed Jalili in October, Mr Mann added.
Earlier, Iran's semi-official Mehr news agency quoted a senior official as saying that Mr Jalili was planning to write to express readiness for fresh nuclear talks.
The latest round of naval exercises began last week and are taking place in international waters to the east of the Strait of Hormuz. They are set to last 10 days.
"All kinds of surface-to-sea, sea-to-sea and surface-to-air as well as shoulder-launched missiles will be tested in the coming days," navy commander Mahmoud Mousavi told Iran's English-language Press TV, according to Reuters.
Furious response
Western nations recently unveiled new sanctions against Tehran following a UN report in November that said Iran had carried out tests related to "development of a nuclear device".
Reports that further measures were being considered to target Iran's oil and financial sectors drew a furious response from Tehran.
Iran's vice-President Mohammad Reza Rahimi on Tuesday warned that "not a drop of oil will pass through the Strait of Hormuz" if sanctions are widened.
Iran's navy chief has said that closing the strait would be easy.
The Strait of Hormuz links the Gulf - and the oil-producing states of Bahrain, Kuwait, Qatar, Saudi Arabia and the United Arab Emirates (UAE) - to the Indian Ocean. About 40% of the world's tanker-borne oil passes through it.
The US also maintains a naval presence in the Gulf, largely to ensure the transport of oil remains open.
Washington played down the Iranian threat with a state department spokesman describing it as an "attempt by them to distract attention from the real issue".
In 2009, Iran test-fired its Sajjil and Shahab missiles which could travel 2,000km (1,243 miles), drawing condemnation from the international community.
Those tests were also carried out amid heightened tensions over Iran's nuclear ambitions, coming just weeks after Iran revealed the existence of a previously secret nuclear facility in the mountains near the city of Qom.