Iran ex-President Rafsanjani's website blocked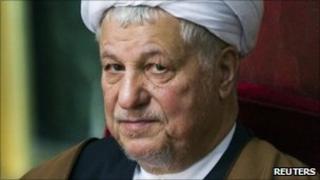 The website of Iran's influential ex-President Akbar Hashemi Rafsanjani has been shut down, his brother has said.
Mohammad Hashemi said the firm hosting the site had been ordered to take it down by unknown officials.
He said a request from Iran's internet watchdog to remove material critical of the government had been ignored.
Mr Rafsanjani is head of an advisory body to Supreme Leader Ayatollah Ali Khamenei but has been openly critical of President Mahmoud Ahmadinejad.
Mr Rafsanjani's political power has been in decline lately, say analysts. Earlier this year he lost his position as head of Iran's highest clerical body, the Assembly of Experts.
In 2009, during mass street protests that followed President Ahmadinejad's controversial re-election, Mr Rafsanjani angered hard-liners by calling for the release of detained opposition members.
Mr Rafsanjani was then barred from leading Friday prayers in Tehran.
Vetting candidates
Analysts consider Mr Rafsanjani a conservative pragmatist who played an important role as an intermediary between the dissident Green Movement that protested against the 2009 election results and the political establishment.
His family has been hit by legal action. His daughter was detained in a February street protest and last week was summoned by a Tehran court to answer charges of making anti-government propaganda, AFP news agency says.
One of his sons has resigned as chief of the Tehran Metro while another lives abroad for fear of a political trial.
Mr Rafsanjani's website was closed as registration ended for next year's parliamentary elections.
Reuters news agency says more than 4,500 candidates registered. They must now be vetted by the conservative-dominated Guardian Council, which has the power to bar candidates.