Israeli raid kills Gaza militant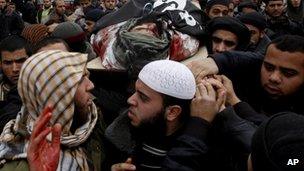 An Israeli air strike to the east of Gaza City has killed the leader of an Islamic militant group, the Israeli military says.
Muman Abu Daf led the Army of Islam, one of the small Palestinian groups that profess allegiance to or inspiration from al-Qaeda.
Five others were wounded in the strike, medical officials told the BBC.
The raid was aimed at a group of Palestinian militants preparing to fire rockets into Israel.
A spokeswoman said two short-range rockets were launched from Gaza on Thursday and five on Wednesday. There were no casualties or damage from the missiles.
On Tuesday, Israel jets struck Gaza twice, targeting an Islamic Jihad operative in the northern Strip. Ten people were wounded in the strikes.
Reporting from Jerusalem, the BBC's Kevin Connolly says many of the rocket attacks from Gaza appear to be the work of small factions of Salafists - puritan Islamic fundamentalists - but Israel continues to hold the Hamas government in Gaza responsible for any anti-Israeli violence which emanates from the territory.